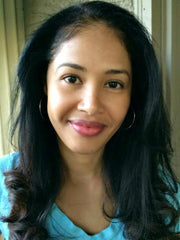 I'm always on the lookout for a BB or CC cream that not only matches my skin tone but also has SPF 20 and over, covers without feeling heavy or oily, helps to reduce the size of my pores and gives me a little glow. My skin could be described as medium to dark with green undertones and most BB or CC creams ends up making my face look slightly ashy or like I went crazy with a really dark bronzer. I find that mixing two of the several variations of medium colors that I have sometimes gives me the look I'm going for, but honestly with my busy schedule most days I don't have the time for mixing as I need something that simplifies my morning routine. I've never heard of nor used any products by
nyakio
, so I was excited when I received their
ABC African Beauty Cream Broad Spectrum SPF 20 Sunscreen
in Cinnamon. The founder, Nyakio, uses "naturally effective African ingredients", and combines them "with modern, result-driven formulas to deliver superb multi-tasking products." The best part? Her products are formulated without parabens or sulfates. The
nyakio African Beauty Cream
states that it provides a sheer coverage and natural radiance, wears for eight hours, reduces the look of fine lines and leaves skin smooth and hydrated. The following morning I smoothed the Beauty Cream onto my face after cleansing and applying a serum. As I still have a bit of my summer tan, Cinnamon wasn't too dark for me. The consistency is creamy but on my face it feels light and sheer; I felt like it melted into my skin to provide the coverage I'm looking for giving me a natural glow. Not only did it hide my imperfections, but it also moisturized my skin without feeling greasy. Even with the SPF 20 in there, my face did not have that ashy tinge. As I wanted to see how it would hold up for a day at the office, I didn't use any other make-up besides lip gloss. Throughout the day and until I cleansed my face before bed, my face still looked smooth and radiant and although it felt hydrated, I didn't feel like it was greasy or heavy. At the moment Cinnamon is working for me,  but I believe once my tan fades, I'll probably have to switch to a lighter color.
I love that a little goes a long way and I know this will be a staple for me! If you're looking for a product to help simplify your daily beauty routine and one that "
protects, perfects
and
primes skin
while helping to prevent skin from showing the signs of premature aging and staying color-true throughout the day", this is it!
akio ABC African Beauty Cream Broad Spectrum SPF 20 Sunscreen
comes in five shades and is cruelty free: Macadamia (light) Honey (light-medium) Almond (medium) Cinnamon (medium-deep) Coffee (deep) It sells for $39.00 and will be available this month at HSN, HSN.com and
nyakio.com
.
Subscribe to A Girl's Gotta Spa!
 Watch our reviews on 
YouTube
, see our pins on 
Pinterest
 and check us out on 
Instagram
 and 
G+
. Got a Kindle? 
We're on Kindle too
! *Disclosure: Press Sample