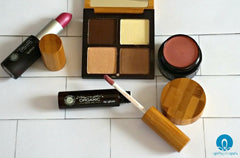 It's been a while since I've changed up my makeup products, as I typically stick to the same brands over and over. With the exception of mascara of course, for that I'm always hunting down the next best thing. (Who isn't?) So when World Organics, a New Zealand based beauty brand, reached out to me to try their organic cosmetics extension The Organic Skin Co, I was game to switch things up. Especially since it has been a while since I've used any organic makeup. The first thing I noticed was the packaging. It's a mix of bamboo and plastic and absolutely stunning. Definitely items that stand out in my makeup bag.
The organic eye shadow palette that I have is called
Espresso Love
. While it is pressed powder, it applies and feels like loose powder. It's not your typical mineral powder though, as it counts calendula and pomegranate seed extract among its ingredients. It's definitely highly pigmented, which I am always a fan of. I can't report if this shadow creases, as I always wear a primer. It did not crease at all with my primer. The Organic Skin Co boasts something they call "
Supercritical Extracts
," essentially this means they use an extraction method that utilizes the whole plant, not just isolating compounds of it. This means more purity in ingredients and potency.
When it comes to blush, I prefer a natural glow, which is exactly what this
organic blush
in Tulip does. It's described as "peachy-pink" in color. It didn't take much product to create a natural flushed look, and it blended rather easily. You just gently swipe your finger across the top of the jar and apply to your cheek bones. It's a cream blush, but in the jar feels more like a lip balm. However, it doesn't feel at all greasy on your cheeks and quickly absorbs only leaving the color behind.
The
organic lipstick
I tried is in Blossom, which is a fushia. It is definitely bright even though this picture doesn't appear that way. I've been wearing red for so long now, I almost forgot what it was like to wear pink. Most lipsticks dry my lips out, but I haven't found that to be the case with this one from The Organic Skin Co. It also seems to wear really well and for a decent amount of time. Without really eating or drinking too much, it lasted me about 5 hours before it really started to wear off.
As for the
organic lip gloss
, I have Mist, which is also a pink hue, but definitely not as bright as the lipstick. It's more of a neutral pink. Some of The Organic Skin Co's lip glosses have a shimmer to it, but Mist does not - however, it does impart a glossy shine. I liked that it had a smooth texture and wasn't sticky or heavy on my lips. All of the organic makeup reviewed have 100% natural ingredients and 70%+ organic ingredients - each product page will tell you exactly how much. It also lists which Supercritical Extracts are part of the ingredients for each product. World Organics is also cruelty free. World Organics, while based outside the US, ships to the US! They also have a super easy way to get 20% off each order. It's called the
Jasmine Club
and once you've placed and ordered $150 worth of product or accumulating orders that equal $150, then each subsequent purchase for 1 year will be at 20% off.
Subscribe to A Girl's Gotta Spa!
 beauty blog. Watch our reviews on 
YouTube
, see our pins on 
Pinterest
 and check us out on 
Instagram
 and 
G+
. Got a Kindle? 
We're on Kindle too
!
Disclosure
: Products sent by PR