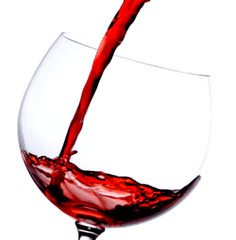 Normally the last thing I consider doing with red wine is applying it to my skin, I mean that just sounds like a complete waste of a good glass...or bottle of wine.  But little did I know that this entire time I could've been drinking and having a spa experience at the same time for under $20. I've been aware of the fact that consuming red wine in moderation can protect my heart and can also protect my body from various diseases caused by inflammation thanks to resveratrol, the antioxidant in red wine that has anti-inflammatory properties, but was completely unaware that I can also apply wine to my face, straight from the bottle for beautiful, glowing skin. I guess there IS a reason why red wine facials have gained a cult-like following in spas worldwide.  Combined with the right ingredients, red wine can be used in a facial masque, facial scrub and facial toner. One of the many and easiest DIY Red Wine Facial Masque, combines raw organic honey, Greek yogurt and red wine to help fight blemishes and redness, moisturize and provide anti-aging benefits.  Raw cacao powder can also be added to this masque for an additional dose of antioxidants and anti-aging properties.  Yogurt can be replaced with egg whites for a face masque that helps to lighten dark spots. If you're looking to battle oily skin, red wine can be combined with Greek yogurt and tea tree essential oil and applied to the skin for about 20 minutes. For exfoliating, red wine can be combined with oatmeal to create a paste.  Just massage into your face and rinse. As a facial toner, either soak cotton balls in red wine and apply directly to your face or transfer some red wine to a mini spray bottle and spritz directly unto your skin, then massage it in with your fingertips.  A red wine toner will help to keep the skin clear, smooth and soft. With my new knowledge of all of these amazing benefits of red wine, having the girls over for wine now has a whole new meaning...I'll drink to that! How have you incorporated red wine into your beauty routine? If you found these beauty tips helpful, please be sure to Like it, Pin it and Share with friends!
Subscribe to A Girl's Gotta Spa!
 Watch our reviews on 
YouTube
, see our pins on 
Pinterest
 and check us out on 
Instagram
 and 
G+
. Got a Kindle? 
We're on Kindle too
!