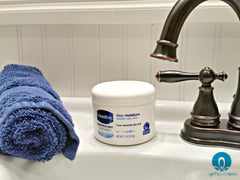 Although I absolutely love this time of the year with the brightly colored leaves and crisp fall air, I dread it at the same time. It seems all of my time is spent trying to prep all the livestock for the winter, insulating the house, cooking and freezing all my produce from the garden and splitting wood, lots of wood. When the temperature drops, it's not just the wood that gets split, my hands do too. My daily routine consists of: Feed the animals, wash my hands. Wash out the poultry feed containers, feed poultry, wash my hands. Come inside to make breakfast, wash dishes. Start meal prep for the day, wash produce, wash dishes. Wash my hands, make lunch, wash dishes. Split and stack wood, wash my hands. Daily chores, wash my hands, make dinner, wash dishes. Take a shower, go to bed, repeat!
Do you notice a pattern yet?
Before I even get to lunch time, the dermatitis on my hands (which seems to be concentrated in-between my fingers) is flared up and burning. With the winter time coming, our wood stove will be going and our house is going to be super dry, which means more components to play a part in my severely dry skin. After trying so many different remedies, I took the opportunity to give
Vaseline Intensive Care Deep Moisture Jelly Cream
a try. I know, it's a mouthful, but the name really does say it all. Vaseline Intensive Care Deep Moisture Jelly Cream has the National Eczema Association Seal of Acceptance, which is really what piqued my interest. With my dermatitis (the most common form of Eczema,) most lotions irritate my hands with a burning sensation. This cream not only contains micro-droplets of Vaseline Jelly, is infused with vitamin E, and hypoallergenic and non-comedogenic (won't clog pores,) but it actually HEALS my hands!
The texture is a rich, smooth cream that doesn't feel heavy and is non-greasy. It really gives your hands a smooth as silk feeling. Other products I have used always wear off so quickly, but my severely dry hands immediately soaked up the moisture and stayed soft and supple for longer than most lotions I've used. Vaseline says it will moisturize for up to 18 hours - I didn't exactly keep track by the hour, but let's just say it was noticeable when I didn't need to constantly re-apply several times a day. I am so excited that I finally found something the works, doesn't burn, and feels good to use. I even have my husband using it. Being a carpenter, he is constantly working outside, even in the cold, so his hands are always drying out and cracking. He loves that it's unscented and non-greasy. Vaseline Intensive Care Deep Moisture Jelly Cream is gentle enough to use on my children too, who are 6 and 8 years old. Their hands get very chapped this time of the year too from all the times they wash their hands at school and use hand sanitizer. There's nothing worse than seeing those red little hands when they come in from playing in the snow! This year when they come in from the cold, I can give them their nice warm cups of hot cocoa and soothe their hands with this cream.
Do you get severely dry skin each Fall and Winter? Will you be giving this new cream a try?
Subscribe to A Girl's Gotta Spa!
 beauty blog. Watch our reviews on 
YouTube
, see our pins on 
Pinterest
 and check us out on 
Instagram
 and
Twitter
. Got a Kindle? 
We're on Kindle too
! This is a sponsored conversation written by me on behalf of Vaseline. The opinions and text are all mine.