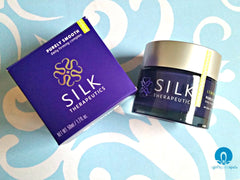 Smooth as silk... that's one way to describe how I'd like my weathered skin to feel. But what if you want to accomplish that without an ingredient heavy product (some of which include chemicals that I can't even pronounce), is that even a possibility? I've used Silk Therapeutics before, so when they asked if I wanted to try their
Purely Smooth daily firming complex
, I didn't hesitate to say yes. And by the way, Purely Smooth only contains 5 ingredients. Unscented is: water, silk, Vitamin C, rosehip oil and sodium anisate (a natural emulsifier), while Lemongrass swaps rosehip oil out for lemongrass essential oil.
I received the Lemongrass, which has a very crisp, clean and lemony aroma. It reminds me of getting a facial at a spa. It comes in a glass jar with a small spatula to scoop the product out with. Avoid using your fingers, as this will introduce bacteria into the jar.
One thing I noticed about Purely Smooth in the jar, other than its invigorating scent, is that it looked to have the consistency of tapioca, much like the
Renewing Peel
I've previously reviewed. While it looked kind of thick and bumpy when I scooped it out, it spreads very thinly on your skin. This product should be applied prior to moisturizer so that there is no barrier between it and your skin. You will literally feel this product working. It's a cross between a light tingling and a sort of "fresh" sensation on your face. It wasn't painful or intrusive and isn't long-lasting, but you are aware of it for a few moments while it sinks into your skin. Also, don't layer it on thick - more will not amplify the effects of the product, in fact, it may cause your skin to flake if you apply too much. You only need a dime-size amount spread evenly to your face and neck. Then apply moisturizer after applying Purely Smooth.
Since my hand is a wrinkle-fest, I thought it would be a good way to demonstrate how lines are quickly smoothed using Purely Smooth. It's pretty clear that where I applied Purely Smooth, my skin looks smoother and less "aged" versus where I didn't apply it at all. I hope Silk Therapeutics can make a hand cream like this for old lady hands like mine. This daily firming complex quickly absorbs and dries to a matte finish (which I am grateful for with my combination skin.) What I like about this product is that it contains Vitamin C, which works to boost healthy collagen, as well as fade pigmentation that often creates uneven skin tone. Their pure liquid silk also aids in the smoothing of skin by working with collagen.
(That's not me super-imposed in front of a nice setting, it's actually the view from a large boulder in my front yard!)
What's most noticeable to me after using Purely Smooth is that my forehead is not fraught with fine and deep set lines. The lines between my brows are still there, but I expect that when I'm squinting a little (it was pretty bright out.) I'm happy with how my skin looks after, and like most people, when you see a noticeable difference when you use a product, you're basically assured that it works. I'm in the process of trying out Silk Therapeutics Nuture++ Moisturizer and will have that review in a few weeks.
Have you tried anything from Silk Therapeutics?
Subscribe to A Girl's Gotta Spa!
 beauty blog. Watch our reviews on 
YouTube
, see our pins on 
Pinterest
 and check us out on 
Instagram
 and 
G+
. Got a Kindle? 
We're on Kindle too
!