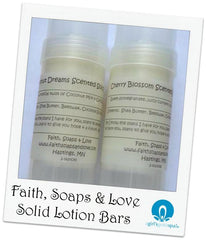 Know for their incredible
handmade artisan soaps
, Faith, Soaps & Love has another trick up their sleeves... or in this case, in their tubes. Good things come in 2 oz. packages. Don't let the small number fool you, as the Solid Lotion Bar tube is the size of my hand. If you've never tried solid lotion before, it is a different experience than fluid lotion and has its benefits. These particular lotion bars are comprised of shea butter, coconut oil, beeswax, fragrance or essential oil. Simple ingredients and completely convenient packaging. While the shea butter and coconut oil hydrate your skin, the beeswax locks in the moisture. It's best used on your elbows, knees, heels of your feet - which is also another reason the packaging is super convenient. I've used lotion bars in the past, but they came in a tin and I'd have to hold them in my hand to apply. It would become tricky because the heat from my hand would soften the bar and my hands would become a little greasy. Utilizing Faith, Soaps & Love's
solid lotion bars
in the tube totally takes the messiness out of the equation. I love that. I'm not the only one in my house using these solid lotion bars, as my oldest son began using them on his eczema. His elbows get really bad and he tends to scratch it, making it worse (and spreading.) I've tried encouraging him to use body oil sprays and lotions, but he always foregoes it (i.e. he ignores me.) I've mentioned it before, and if you are a long time reader you may already know, that my oldest son is on the Autism Spectrum. With his sensory issues he found that the solid lotion in a tube is perfect for him. Better still, his eczema has diminished significantly. While I can't go making bold claims that it cures eczema, it definitely helps. He now uses it on his legs and arms, too. The solid lotion bars come in a variety of scents and are only $6.50 each. They do also sell non-tubed heart-shaped lotion bars in a variety of fragrances as well (set of 4 is $6.) As with their handmade soap, the tubes each have a scripture verse on them.
Have you tried solid lotion before?
Subscribe to A Girl's Gotta Spa!
 Watch our reviews on 
YouTube
, see our pins on 
Pinterest
 and check us out on 
Instagram
 and 
G+
. Got a Kindle? 
We're on Kindle too
! 
Shannon on G+
*Disclosure: Press Samples