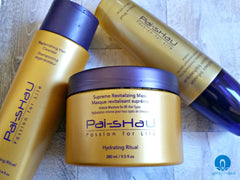 This is likely the only time where you hear me rave about tea. I'm your coffee-obsessed kind of girl, but this hair care line by Pai-Shau based on a proprietary blend of concentrated steeped teas, is making my life right now. Pai-Shau is a vegan and cruelty free hair care line that marries an ancient bathing ritual from Vietnam with modern day science. I received Pai-Shau's Replenishing Hair Cleanser and Supreme Revitalizing Mask (from their Hydrating Ritual) and Biphasic Infusion (from their Enhance Ritual) to review. Having never heard of this brand, I held no expectations - which honestly, is the best thing to have, because I was totally WOWED.
Since I recently
colored my hair
, using sulfate-free hair products are a must. The Replenishing Hair Cleanser and Supreme Revitalizing Mask are both sulfate-free, color-safe, paraben and gluten-free. The hair cleanser itself is not a very large bottle, only 8.4oz. However, as is usually the case, good things come in small packages. This cleanser is no different. While the ingredient list is not on the bottle or on the website, it is on the box and it appears that besides the tea, there is also shea butter in this cleanser, which explains why it is so hydrating. While the fragrance itself is not listed by name, it smells of sandalwood and maybe a bit of patchouli. Whatever it is, it smells very earthy and something that would be used during a spa treatment. This hair cleanser is thick when it comes to consistency and pearl white in color. It feels great and rinses clean without making your hair feel stripped.
The Supreme Revitalizing Hask Mask is also a thick conditioning treatment. It too has the same earthy fragrance as the cleanser. The directions state to apply it generously to towel-dried hair and to leave on for 5 minutes then rinse. However, this mama doesn't have time for a post-shower treatment, so I simply applied it while in the shower and left it on while I washed my face, shaved my legs, etc. then rinsed. My hair felt gloriously silky smooth and hydrated.
At first I thought the Biphasic Infusion was a hair serum and would come out of the bottle like one... it works much like one, however, it's a liquid concentrate. The bottle needs to be shaken before pumping it out, as the ingredients separate. This product pumps out like water, so really cup your hand to keep it from spilling everywhere. You can apply it to damp or dry hair, I found that it works the same either way. It works great to smooth hair and tame frizziness. Since it's super thin and watery, it is essentially weightless and doesn't make hair greasy. Overall, I really liked how smooth, soft and silky my hair felt. I'm not typically a fan of earthy-musky type fragrances, but this one is not overwhelming or perfumey. This is a great product line worth checking out!
Pai-Shau
is only available at salons (none local to me though.. boo.)
Subscribe to A Girl's Gotta Spa!
 beauty blog. Watch our reviews on 
YouTube
, see our pins on 
Pinterest
 and check us out on 
Instagram
 and 
G+
. Got a Kindle? 
We're on Kindle too
!
Disclosure: Press sample