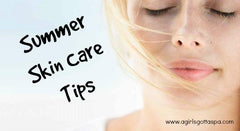 With warmer weather here, I asked Paula Begoun to share some summer skin care advice to help us get our glow on! Paula is the creator and innovative force behind
Paula's Choice skin care and cosmetics
. She also launched
Beautypedia.com
, which features tens of thousands of candid, research-supported product reviews by Paula, herself. For a summer of fun in the sun, check out what Paula had to say: 
You may need to change your skin-care routine during summer weather. Many women find switching to a gel cleanser and lighter moisturizer preferable.
If you're spending more time outdoors and showing more skin during hot weather, be sure your sunscreen is rated SPF 15 or greater (and greater is better) and that it provides broad spectrum protection.
Don't forget to reapply sunscreen during long days outdoors and there's no such thing as "all day," "sweatproof" or "waterproof" protection!
Don't forget to apply sunscreen to often-missed areas such as the back of the neck, tops of ears, tops of feet, and along the hairline.
If your hairstyle has a strong part that exposes your scalp, massage a bit of sunscreen on this exposed area of be sure you have a hat to protect the exposed part of your scalp.
If you happen to get sunburned, get out of direct sunlight immediately and seek shade. Apply a lightweight, alcohol-free, gel-textured moisturizer or use plain aloe vera gel.
Apply cool, wet compresses to sunburned areas to reduce heat. You may also want to sit in a cool, plain bath (no bubble bath or bath oils, but you can add powdered oatmeal for its soothing qualities.)
Aspirin or other over-the-counter anti-inflammatory medicines can help reduce the redness and pain of sunburn; follow the directions on the bottle and make sure you consult your physician first if you're taking other prescription drugs.
Stay out of the sun until your sunburn heals and stay hydrated by drinking plenty of water, juices, or any alcohol- and caffeine-free beverage you prefer.
Love these tips? 
Subscribe to A Girl's Gotta Spa!
 Watch our reviews on 
YouTube
, see our pins on 
Pinterest
 and check us out on 
Instagram
 and 
G+
. Got a Kindle? 
We're on Kindle too
! 
Shannon on G+