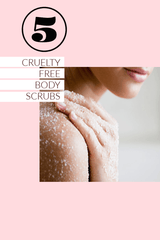 If your skin has been looking lackluster lately, it may be time to exfoliate. Exfoliation will help to slough away dull looking skin and help it to reveal a healthy glow. A good body scrub can do the trick and we rounded up 5
cruelty free body scrubs
that you can find on Amazon. 
Matcha is not only great for your health, but it's also great for the skin. Matcha is very popular for treating inflammation and diminishing the sign of aging. Matcha is good for all skin types, so everyone can use this body scrub. This body scrub will help to exfoliate and eliminate dead skin cells, then rejuvenate the underlying skin to improve your skin tone. Peppermint oil adds to the refreshing quality this scrub has. It is 100% natural and it is cruelty-free.
This body scrub comes in travel size or is perfect as a way to test out if it's for you. This sugar scrub is coconut oil based, giving skin a gentle exfoliation with maximum hydration. The scent is a heady blend of exotic flowers making you feel like your shower is an island getaway. Bonus is it's natural, with fair trade ingredients and cruelty free.
This delicious smelling blend of Dead Sea Salt and coconut milk will whip your skin into shape. This scrub has a plethora of hydrating oils from avocado oil to grapeseed oil. Your skin is sure to be left supple after using it. It's also natural and cruelty free.
You will definitely fall in love with this luxury body scrub. It will help to renew your skin, leaving it fresh and smooth from first use. The scrub contains jojoba beads and fruit acids to exfoliate and hydrate skin, and aloe vera to soothe it. This scrub is cruelty free and hypoallergenic.
Forgive us for being biased, but the latest scrub from A Girl's Gotta Spa! is a dreamy mix of Pink Himalayan Salt and a botanical blend of soothing flowers and essential oils. The fine grit of the salt buffs skin , while lavender essential oil relaxes the mind, and organic Sunflower and Safflower Seed Oil moisturizes skin. This body scrub will give you a unique experience! It's also 100% natural and Leaping Bunny certified cruelty free.
Subscribe to A Girl's Gotta Spa! beauty blog. Watch our reviews on YouTube, see our pins on Pinterest and check us out on Instagram. Or check out our natural bath and body line!