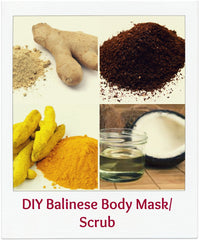 A couple of weeks ago I had the pleasure of visiting a coffee plantation in the Kintamani region of Bali thanks to my fiancé's obsession with the Luwak Coffee that is produced in this region.  The plantation we visited not only produced Luwak Coffee, but also produced ginger, turmeric and a host of other spices, fruits and vegetables. At some point in the tour I mentioned to our guide that my sister and I have been using coffee grounds as a scrub for a few years now and it is still one of my favorite
DIY body scrubs
.  Our guide in turn told me that a lot of the women in that area also use coffee grounds as a scrub as well, but they combine it with ginger powder, turmeric powder and coconut oil for paste/scrub that is great for your skin.   According to our guide, the ginger powder warms up your skin leaving it glowing and radiant, the turmeric powder has a host of skin benefits including skin brightening and stretch mark reduction and the coconut oil moisturizes your skin leaving it soft and supple. I would advise combining the coffee grounds, turmeric and ginger powder and coconut oil with a bit of water to form more of a paste that you can let sit on your skin for around 20 minutes or so.  Then use a bit of water to moisten the paste and exfoliate your skin.  This DIY mask/scrub is super easy to create and you may actually have all of the ingredients that you need in your pantry at this very second.  I will warn that things can get bit messy with this mask/scrub so definitely do this in the shower and be prepared to spend a couple of minutes rinsing out your shower/tub. Messiness aside this mask/scrub is definitely worth the effort for the soft, glowing, moisturized skin that you'll have afterwards! Leave a comment if you give it a try!
Subscribe to A Girl's Gotta Spa!
 for more beauty reviews! Watch our reviews on 
YouTube
. Got a Kindle? 
We're on Kindle too
!