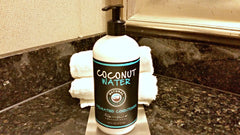 Coconut is my favorite fruit. The scent reminds me of sandy beaches and its benefits, from the water, milk and oil, are all-encompassing. I was recently sent Renpure's Black Label line of hair care - Coconut Water - to try out. This collection features extra virgin coconut oil and natural coconut water in each product. Both ingredients promise hydration, shine and overall healthier hair.
Renpure Coconut Water Hydrating Shampoo: Both the shampoo and conditioner come in 16oz bottles. They are both safe for color treated hair and are free of sulfates, parabens, dyes, gluten, and phthalates. What's interesting about the shampoo is that I expected it to smell like coconut. But it smells like citrus (at least to my nose.) I do like citrus scents, so it's no big deal, but psychologically I was thrown off.
Without the sulfates to create lather, it can be a little difficult to determine how much you need to cleanse your hair. The first few times I overdid it and my hair felt very heavy afterwards. I have fine hair, however, I have a lot of it giving it the look (and feel) of much thicker hair. It's always a fine line for me between using products that give me the right amount of hydration without weighing it down. Once I figured out the right amount of product for my hair, it was a much better experience and I ended up really liking this shampoo.


Renpure Coconut Water Hydrating Conditioner: Like the shampoo, the conditioner has a bit of a citrus fragrance to it. It doesn't have any coconut scent at all. Do not get me wrong, scent has nothing to do with how the product works, but I'm still scratching my head as the label's ingredients are chock full of all variations of coconut oil and coconut water, and I can't figure out how it is giving me citrus vibes. There wasn't any trial and error with the conditioner, as it worked perfectly from the start. My hair felt smooth, it had a less brittle feel to it and frizz was diminished.
Renpure Coconut Water Replenishing Treatment Mist: It just takes a few spritzes of this mist to add some extra moisture to your hair. I found it very beneficial over the summer in-between washings and I plan to use it again once the thermostat gets turned up and my hair begins to dry out again. It's lightweight, but definitely delivers on its claims. Have you tried any of these products from Renpure? Questions and comments welcome!