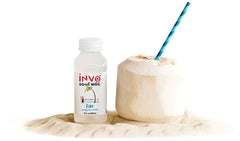 Whatever time of the year you are reading this - now is the time to get healthy. And it can start off small, easing into one thing at a time to make it a positive, healthy habit. I'm a big fan of coconut everything - from coconut oil, to coconut scented beauty products, to eating the fruit and drinking it. Coconut is a go-to for its many health and beauty benefits. Coconut water is something I like to sip on, and recently had the opportunity to try cold-crafted,
INVO coconut water
. INVO uses high pressure processing to keep the nutrients from the coconut as pure and intact as possible. (Drinking an INVO is like sipping direct from the coconut itself!)
I'm sure you are aware of the many health benefits of coconut water. If you're not, it's known to boost hydration, reduce blood pressure, facilitate digestion and aids in weight loss. Coconut water is rich in nutrients such as potassium, calcium and magnesium. In addition to the great health benefits, coconut water also has some pretty amazing beauty benefits when it comes to your skin. Thanks to its anti-microbial properties it helps to fight blemishes (much like drinking lemon water - but this is much more tasty!) It also contains a protein called cytokines that is responsible for encouraging cell growth and cell activation.
Each bottle of
INVO coconut water
is packed with 5 essential electrolytes, which promotes rapid hydration.  It is low in sugar, 99% fat free and has as much potassium as a whole banana. You may notice that each bottle pictured seems to be a different color. I tested INVO's Pure Coconut flavor (they also have Tropical and Sencha Green Tea), and despite the color ranging from clear to a deeper pink, they all tasted the same and were completely refreshing (chilled is my preferred way to drink it.) The pink color comes from enzymes working to change the color of some of the beneficial polyphenolics found naturally in coconut water and do not affect the quality or taste.
Do you drink coconut water? What are the benefits you've seen from it?
Subscribe to A Girl's Gotta Spa!
 beauty blog. Watch our reviews on 
YouTube
, see our pins on 
Pinterest
 and check us out on 
Instagram
. Got a Kindle? 
We're on Kindle too
!