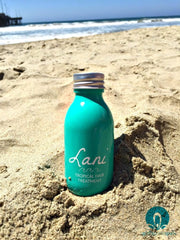 Lately a lot of my beauty obsessions have been due to my other obsession, Instagram.  Thanks to Instagram I've discovered beauty products and brands that would have otherwise never been on my radar. My most recent IG beauty product discovery is
Lani Tropical Hair Treatment
. I was immediately intrigued by  their gorgeous beachy IG pics, amazing packaging and the fact that the hair treatment is both 100% natural, cruelty free and vegan. Getting my hands on Lani Tropical Hair Treatment was a bit more difficult than I thought and I was close to giving up. Then I just happened to walk into Urban Outfitters and almost squealed out loud when I saw that beautiful turquoise bottle sitting on the shelf in their beauty area. I've been using Lani Tropical Hair Treatment for two weeks now and absolutely love how my hair looks and feels after each use. It takes my hair from dry and dull to shiny and hydrated even after I colored my hair. I normally apply it to my dry hair, place it in a top knot and leave it in my hair for almost an entire day. If you do not have the time to leave it in your hair for that long, it is recommended that you leave it in your hair for at least 30 minutes.
It's also recommended that you shampoo twice then condition as usual after using it, but depending on how my dry my hair feels, I'll just shampoo once to leave a bit of the treatment in my hair without weighing my hair down or leaving it too oily.  I also love using it as both a hair treatment and curl tamer whenever I opt to leave my hair in it's naturally curly state. Please keep in mind that I have thick, highly textured hair so this may not be the case for someone with fine or even medium hair. There are not a lot of hair products that my hairstylist Pearson Knight (Elle genius awarded hairstylist) approves of, but after reading the ingredients in
Lani Tropical Hair Treatment
 (Camellia seed oil, Coconut oil, Kukui nut oil and Macadamia nut oil) and after seeing firsthand what it has done for the condition of my hair, he encourages me to use it every time I wash my hair. He has even started using it, especially after a surf session. As I mentioned above Lani Tropical Hair Treatment can be found at Urban Outfitters online and also at the Third Street Promenade location in Santa Monica.  I just hope that Urban Outfitters starts carrying the Lani Tropical Body Treatment in all stores as well, since I was too late to purchase it online before it sold out!
Have you tried this hair treatment?
Subscribe to A Girl's Gotta Spa!
 beauty blog. Watch our reviews on 
YouTube
, see our pins on 
Pinterest
 and check us out on 
Instagram
 and 
G+
. Got a Kindle? 
We're on Kindle too
! *Disclosure: affiliate link