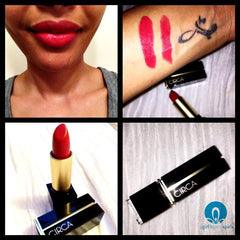 I absolutely love getting new makeup. Trying the different colors and products, choosing a favorite, bringing it home and opening that pretty new package. It's even better when I get something I haven't tried before. Like makeup from CIRCA Beauty, a cruelty free makeup line that's affordable, long wearing, trendy, and appeals to different skin tones. And oh yeah, the Creative Director just happens to be Eva Mendez.
Left: BB Cream in 03 Medium. Right: Liquid Foundation in 07.
I usually cannot find foundations or a BB cream that doesn't end up being too dark or makes my skin looks ashy. This makeup line is simply amazing! My skin tone would be considered medium brown with yellow undertones and both the
Color Balance BB Cream
(03 Medium) and
Color Balance Liquid Foundation
(07) matched my skin without being chalky. My skin looked smooth and radiant! The BB Cream provides full coverage, it's hydrating, lightweight, oil free and it gives my skin a soft focus finish while evening out my skin tone. I normally don't use foundation because I pretty much gave up on finding one that would match my skin tone. This foundation worked well for my skin; it didn't match exactly, but it was close! It provides medium to full coverage, it definitely hid my imperfections, didn't feel dry or flakey and just like the BB Cream, it evened out my skin tone.
Color Treatment Tinted Lip Butter in Apricot.
The
Color Treatment Tinted Lip Butter
is absolutely wonderful! It's moisturizing, conditions and soothes your lips without being sticky. I use it before applying any gloss or lipstick and it keeps my lips soft and smooth. I also use it before bed and wake up with a soft moisturized pout. It comes in a variety of colors and the Sheer Apricot that I received was a bit too light for me, so on my lips it looks like my natural lip color with a subtle shine. Enriched with oils and shea butter, this Lip Butter is a must for your makeup bag or purse! I love that although the
Color Absolute Velvet Luxe Lipstick
in Marilyn (a darker red), provides full coverage in just one swipe, I can also lightly dab it on and add some Lip Butter for just a hint of color. It's rich pigment adds rich, beautiful color while being weightless and non-drying.
Color Absolute Velvet Luxe Lipstick in Marilyn
For my eyes, the
Fade to Black Precision Eye Ink
 adds a dramatic finish that stays all day and doesn't smudge. Used along with the
Absolute Lash Icon Mascara
in extreme black, these two products accentuated my eyes without irritating and leaving little black flakes or smudges. The mascara coats my eyelashes giving it a natural glossy finish along with some awesome length and the thin tip on the Eye Ink is perfect for just that one line or for going bold!
Before and after with Absolute Lash Icon Mascara
The highly pigmented
Eye Shadow Palette
is smooth, weightless and adds dramatic color to your eyes. I love that all three of these products can go from day to night!
Color Focus Eye Shadow Palette in Provocateur
I would absolutely love for the Lip Butter and BB Cream to have SPF in them and maybe have some of the packaging be a little less bulky, but otherwise this line is fun, versatile and nothing is over fifteen dollars!
Have you tried CIRCA Beauty products yet?
Subscribe to A Girl's Gotta Spa!
 beauty blog. Watch our reviews on 
YouTube
, see our pins on 
Pinterest
 and check us out on 
Instagram
. Got a Kindle? 
We're on Kindle too
! *Disclosure: Press samples, affiliate links