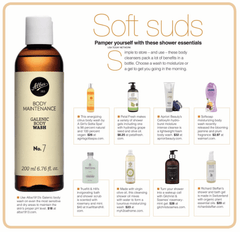 A Girl's Gotta Spa! Energizing Citrus Body Wash
is featured in YES!, the magazine inside the USA Today network of newspapers nationwide. I'm pretty much doing the happy dance! If you are new here and not familiar with our body wash, it is vegan, 98% natural and Leaping Bunny certified cruelty free. It has a variety of plant-based ingredients including 30% aloe to soothe dry, irritated skin, chamomile, comfrey, and calendula. It also has shea oil to hydrate, citrus essential oils to brighten and kelp to revitalize skin. Citrus oils are also known to be great for acne-prone skin. You can find it on our ecommerce store:
www.agirlsgottaspa.com/store
 Be sure to check out our body lotion and salt scrub. We offer free shipping on orders over $50. To stay in the loop regarding our bath and body line, please subscribe to our 
mailing list
. Also check out our ever growing list of 
retailers
 that believe in our mission statement – 
You Deserve to be Pampered
. If you are a retailer looking to sell A Girl's Gotta Spa! Please 
contact
 us!