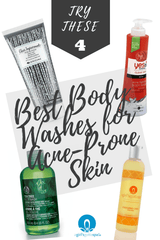 Bacne. Something that is often dreaded when the warmer weather hits and you want to ditch the layers. While I personally haven't experience body acne, I do have keratosis pilaris on my arms and legs, so I know the feeling of having a skin condition I want to clear up and am often embarrassed by. There's a lot of great body washes out there that can help diminish body acne without a prescription and without the uber drying effects of benzoyl peroxide. While that's an effective ingredient, it just creates a secondary issue for you to have to deal with - dry, flaky skin. No thanks!
Here are 4 body washes that we've found work best on body acne (and smell great too!)
Yes to Tomatoes Acne Fighting Body Wash
This body wash has 2% salicylic acid, which is a known exfoliant that is also an anti-inflammatory. Since most body acne is caused by clogged pores, this is effective at cleansing acne-prone skin. This body wash is also sulfate-free and cruelty free.
A Girl's Gotta Spa! Energizing Citrus Body Wash
The citrus essential oils are the magic of this body wash. Lemon and lime are natural astringents, cleansing the skin of blemish-causing bacteria. It also contains 30% aloe vera, which soothes inflammation. Sulfate-free and cruelty free.
The Body Shop Tea Tree Body Wash
Tea tree isn't just a great anti-acne oil for your face, but great for your body as well. Tea tree oil won't over-strip your skin, a common problem when using benzoyl peroxide type body washes. Sulfate-free and cruelty free. Origins Clear Improvement Purfying Charcoal Body Wash
Activated charcoal
is one of my favorite ingredients for combatting acne. It's something I use in my skin care regimen and my skin has never been clearer. This body wash, with it's minty fragrance, is effective at banishing the blemishes.
Which body wash do you use to combat acne?
Subscribe to A Girl's Gotta Spa!
 beauty blog. Watch our reviews on 
YouTube
, see our pins on 
Pinterest
 and check us out on 
Instagram
. Got a Kindle? 
We're on Kindle too
! Disclosure: affiliate links