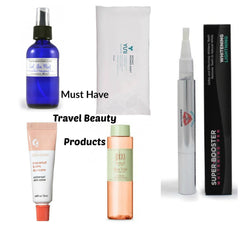 The holiday travel season is officially upon us so I've decided to share some of my favorite travel friendly beauty products in hopes that it will make this holiday travel season a bit less stressful...and germ free. 1.
Farmaesthetics Cool Aloe Mist
This spritz is ideal for air travel because it is hydrating, refreshing and purifying. The cool aloe mist soothes dry skin and doubles an anti-bacterial, which is important in such an enclosed environment where air is re-circulated. Just spray it around your personal space prior to boarding for a relaxing scent and to ward off those airplane germs. 2.
Yuni Instant Shower Sheet
I love having these in my purse just in case of delayed or canceled flights.  I have been stranded at the airport enough times without access to a shower and these wipes are the next best thing to a shower. They cleanse, deodorize and refresh with neem and peppermint. 3.
Glossier Coconut Balm Dotcom
Leaving home without this salve is not an option.  First off, I adore the smell of coconut as it just puts me in a great mood no matter what. The smell of this mutli-tasking skin salve plus the fact that it is uber hydrating, makes it an absolute must-have travel beauty product for me. 4.
Super Booster Teeth Whitening Pen
This pen is fast-acting and easy to use, plus it has a minty flavor so it also freshens that dreaded airplane breath. 5. 
Pixi Glow Tonic
This is another product with a super addictive scent. It's fresh, clean and pretty.  It also has 5% glycolic acid, aole vera and ginseng and gently exfoliates skin for a bright, glowing complexion. I love using it right before I land. These products definitely help to make my time on an airplane a lot less stressful and hopefully they will make your holiday travel season a bit more merry.
What are some of your favorite travel friendly beauty products?
Subscribe to A Girl's Gotta Spa!
 beauty blog. Watch our reviews on 
YouTube
, see our pins on 
Pinterest
 and check us out on 
Instagram
 and 
G+
. Got a Kindle? 
We're on Kindle too
! *Disclosure: Some affiliate links