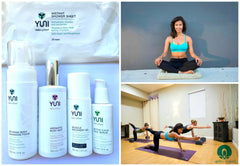 As someone who cannot survive without yoga, I was beyond excited when I heard about Yuni. Yuni is the first natural, sustainable, convenient, Yoga-inspired beauty brand.
Yuni products are versatile, multi-tasking, time saving and enable yogis to potentially practice more often since having time to shower or the availability of shower facilities may be a deciding factor in whether we decide to work out or practice.
All Yuni products are plant-based, non-toxic, biodegradable and compostable and contain 100% all-natural fragrance. The first two Yuni products that I HAD to try were the No-Rinse Body Cleansing Foam and Instant Shower Sheets.  Both of these products are incredibly effective at leaving my skin feeling clean and refreshed without the need for water. 
I absolutely love hot yoga, but after class there is usually a line for the showers. I usually skip hot yoga on a day when I have commitments after class because I don't have the time to wait to shower and I definitely refuse to show up to an appointment covered in hot yoga sweat. The Instant Shower Sheets and No-Rinse Body Cleansing Foam give me that just showered feeling without the time and hassle.
Best of all, I don't need to skip my hot yoga session due to showering time constraints. The Instant Shower Sheets are going to be new favorite travel companion especially on long flights and also because I have had the unfortunate experience of being stuck in an airport for a long period of time and these shower sheets would have been a life saver.
My other favorites from Yuni are the Muscle Recovery Gel and the Aromatic Body Mist. The Muscle Recovery Gel contains fair trade green tea extract, peppermint and arnica to ease post workout soreness and inflammation.  The rollerball applicator makes application easy and mess free and I am now very addicted to the minty fragrance and intensely cooling sensation.  It's perfect post hot yoga and also post run. 
My fiancé has also been using the Muscle Recovery Gel after surfing and is also in love with it. The Aromatic Body Mist is like walking into the most zen-like spa experience, it's an incredibly relaxing fragrance that creates a 100% natural aroma with essential oils of Bergamot, Neroli and Sage.
 In addition to misting myself with this, I also love misting my bedroom right before bedtime.  The Aromatic Body Mist is also going to be a favorite travel companion of mine, especially with holiday travel looming in the near future.
Yuni products are not only my new yoga and gym bag staples, but they are now also my travelling essentials.
Thankfully a lot of the products come in travel sizes which will make the travelling experience a much more enjoyable, stress-free and dare I say, beautiful experience. Yoga lovers, have you tried Yuni yet?  
*Disclosure: Press samples