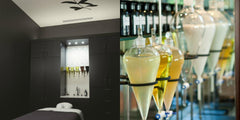 If you're looking to get your skin Summer-ready, read on for tips from spas that give some skin advice you'll want to start using ASAP.
Inflammation, Environmental Irritant Damage
Tip:
The wound healing herb, Calendula, is traditionally known to reduce inflammation and soothe irritation.  Create an at-home face mist, combine dried Calendula flowers and oats in a French press, letting it steep in boiled distilled water for 10 minutes.  Once cool, pour into spray bottle and spritz face liberally for soft and hydrated skin. – Barbara Close, Founder at
Naturopathica Chelsea Healing Arts Center & Spa
Treatment:
Perfect for those ready to escape the urban city and head to the beach, the
Bio-Energy Lift Facial treatment
uses a combination of liquid microdermabrasion technology with advanced skincare formulas to re-energize and remineralize the skin by replenishing oxygen consumption while repairing and protecting the skin from free-radical damage and environmental irritants.
Our favorite product to use at home:
A Girl's Gotta Spa! Energizing Citrus Body Wash
(ingredients include calendula, aloe and other plants.)
Dull Complexion
Expert Tip:
"I love a good body scrub to eliminate the accumulation of dead skin cells and get that healthy glow in the summer. To maximize results, scrub with a body brush in circular movements then apply coco oil which provides deep hydration and promotes the removal of dead cells to brighten a dull complexion."
– Nicole Courrau, Spa Manager at Sibö Rainforest, Spa & Retreat –
Los Sueños Marriott Ocean & Golf Resort
Treatment:
The
Well-being Body Massage
begins with a dry body brushing to remove dead skin, oxygenate outer layers of tissue and stimulate the lymphatic system. Native coconut oil is applied using flowing movements, soothing the body and renewing the skin with a relaxing massage.
Our favorite product to use at home:
A Girl's Gotta Spa! Energizing Citrus Salt Scrub
Cellulite
Tip:
"Caffeine is to cellulite as Kryptonite is to Superman: its worst enemy. Recycle those coffee grounds and give yourself a daily scrub followed by a rich moisturizer to combat those lumps and bumps."
Sharla Martin, Spa Director at
The Windsor Court Hotel
Treatment:
Summer Regal Retreat - A detoxifying treatment that begins with dry brushing of the body to release toxins, followed by an invigorating full body coffee scrub and steam shower to slough all the unwanted dead skin from your body. The transformational effect finishes with a stimulating ginger oil massage and spine revitalizing mask.
Our favorite product to use at home:
Svelta Coffee Sugar Scrub
Premature aging, collagenases
Tip
: Banana- This powerful fruit isn't just good for eating, but can also be used as a creamy face mask. Mash one banana up with a teaspoon of orange juice and a teaspoon of plain yogurt, and leave it on for 15 to 20 minutes. The vitamin A will help fade dark spots and blemishes, while vitamin B will prevent aging, and potassium will moisturize and hydrate skin cells. – Albert Cruz, Spa Manager at
Hilton Aruba Caribbean Resort & Casino
's eforea spa
Treatment:
The
Age Defyer Facial
uses powerful skin-illuminating botanicals, a multi-acid peel, brightening facial serum, and unique cooling masque; leaving skin lighter, brighter, and more refined.
Our favorite product to use at home:
We also love this
DIY banana facial mask
Brittle hair, dry scalp
Tip:
Whip an egg white thoroughly along with two tablespoons of lukewarm water. Apply the mixture to your damp hair and scalp and massage with your fingertips in a circular motion for 15 minutes. Then shampoo your hair with cool water. Do this once or twice a week, depending on the condition of your hair. – Albert Cruz, Spa Manager at
Hilton Aruba Caribbean Resort & Casino
's eforea spa
Treatment:
Discover true Caribbean relaxation with the spa's 110-minute
Relax & Reflect body treatment
that includes a gentle skin cleanse, relaxing Salt Scrub, hour body massage, and scalp massage complete with a restorative aromatherapy oil blend of sweet orange, palmarosa, and rose geranium. The treatment utilizes ESPA's all natural and silicone-free Pink Hair & Scalp Mud cream for a mineral-rich conditioning mud mask that leaves hair and scalp feeling soft, smooth, and reinvigorated.
Our favorite product to use at home:
Keune So Pure Exfoliating Shampoo
Subscribe to A Girl's Gotta Spa!
 beauty blog. Watch our reviews on 
YouTube
, see our pins on 
Pinterest
 and check us out on 
Instagram
.
 Got a Kindle? 
We're on Kindle too
!