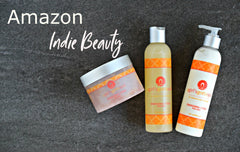 There's big news here at
A Girl's Gotta Spa!
Our brand recently joined Amazon
Indie Beauty
and I am stoked! The beauty space is vast and it is so hard to compete for eyeballs when you don't have the big marketing budgets that large brands do. Being a small business means having to find creative ways to get the word out about our super fab, cruelty free products. So the opportunity to be featured on Amazon's curated
Indie Beauty page
is a big deal! I'm still rubbing my eyes expecting to wake up from this dream. If you are an indie beauty supporter - thank you! Brands like us know who each of our customers are by name and we are so grateful for you. So if you're shopping Amazon, please pop over to Amazon's 
Indie Beauty featured brands
and click through to see all of the brands, including ours, ready to offer you top notch beauty products! P.s. While our
rollerball perfume
is waiting to also be included, you can find it here: 
https://amzn.to/2vOFzNp
To stay in the loop regarding our bath and body line and perfume, please subscribe to our 
mailing list
. Please also see our list of 
retailers
.