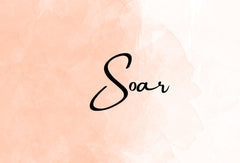 Our debut roll-on perfume was Arise. Arise is about strength and the fortitude to rise up from a difficult situation. Looking to carry on that same sentiment and power of Arise, I knew that our next
rollerball perfume
had to hold the same weight. I'll be honest, it's difficult naming a perfume. We went through at least a dozen names over the course of a few months, but none seemed to fit right. I was starting to panic since the packaging design had a deadline. Then I was reading an article and one word popped out at me.
Soar
Soar represents the woman who has walked the hot coals, who picked herself up despite all obstacles - the woman of Arise, but who has now regained the confidence to spread her wings and fly. Soar represents looking ahead, focused on the horizon, your goal within reach. Your head is up, self-esteem intact, and you're open to new possibilities. After you Arise, it's time to Soar.
(Sneak peek at our new perfume sans label on the perfume, which is not quite complete yet)
Soar is a smoky fragrance made sexy and mysterious by way of fig, spice, amber and white musk*.  We continue to carry into this next perfume our citrus notes of lemon and orange that you find throughout all
A Girl's Gotta Spa! products
.  We put a feminine touch on it with floral notes of geranium and rose absolute. While ginger gives it an exotic angle, green tea helps to lighten the heaviness of this scent making it crisp.
Here are the notes in order
:
Meyer Lemon, Wild Orange, Ginger, Geranium, Rose Absolute, Green Tea, Fig, Spice, Amber, White Musk
The color for Soar is akin to Pumpkin Spice, just a slightly lighter hue. This perfume is warm, so I felt the color should be as well. For the font, we went through many versions until we settled on a strong and powerful S font and a variation of the font we used for Arise with the oar. I've gotten quite a few comments about the spacing between the a and r - this was not a mistake, as I like how it appears the r is about to take off in flight. It seemed fitting for the name. Soar comes in a glass bottle with a silver rollerball and brushed silver cap. It is vegan and cruelty free. It's available for pre-order now and will begin shipping at the end of September. Click here to purchase: Soar
Roll-On Perfume
Sign up for our product newsletter:
http://eepurl.com/ODuT1