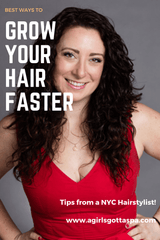 Let's be honest, haircuts aren't always pretty. Sometimes the result comes as more of a shock to us than the overpriced bill we get afterwards. So, what do we do after our hairdresser turns us around the swivel chair, asks us "what we think" and we lie to their face saying we love it?
We asked NYC hairstylist, Kali Ferrara of the Roy Teeluck Salon in Midtown East, what the best ways are to get hair to grow quickly after a bad haircut.
Schedule an Adjustment
If your haircut is a complete disaster and you think the stylist may have done something wrong, it's always preferred that you first call and schedule an adjustment.

If it's just not for you, any stylist would prefer you come back for an adjustment than for you to never come back and hate your hair. Your hair has a better chance of growing out if you leave it to a professional to adjust it rather than taking scissors into your own hands.
Patience
This is the number one thing you need when growing out your hair. The in-between stages (growing hair out past your ears and/or shoulders) are most often the times when people want to give up. They are the hardest and most crucial to bypass.
Hair Growth Vitamins
A hair growth vitamin, like vitafusion's Gorgeous Hair, Skin and Nails Gummies, can also help aid in hair growth. Deficiency in any vitamins due to a poor diet can hinder hair growth.
Repair Your Hair with a Mask
Hair masks and low heat on your hot tools will also help your ends stay healthy, calling for less trims. The healthier the hair that comes from your scalp (and all the way down to your ends) the better, and more efficiently, your hair will grow.
While there is no quick, miracle cure for growing your hair overnight after a bad hair cut, there are things you can do to expedite the process and ensure that your hair grows back healthy and strong.