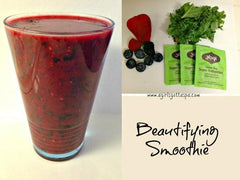 I've always believed in caring for my skin from the inside out.  There is nothing that makes me happier than when I have clear, glowing skin that does not require a stitch of makeup. To make sure my skin looks as good as possible I try to maintain a clean, healthy, balanced diet...much easier said than done- get regular exercise, good sleep and make sure I make it to hot yoga at least twice a week.  Lately I've been incorporating more smoothies into my diet.  They are a quick and easy way for me to get a meal in when I don't have a lot of time or if I'm much too lazy to cook.  My favorite smoothie is the one that I frequently have in the morning.  It gives me the energy I need to start the day off right, I feel good that I've consumed something for breakfast and the ingredients in the smoothie contribute to radiant skin and hair. My morning smoothie contains green tea, blueberries, strawberries, blackberries and raspberries and kale. Unfortunately I have a tendency to not measure anything so I can't give you the exact quantities of the ingredients, but if I were to estimate I would say about two cups of green tea, a handful of blueberries, a large handful of kale and about 4-5 strawberries.  I combine the ingredients in my Magic Bullet and in less than a minute I have a tasty, filling smoothie that's healthy and great for my hair and skin. The berries in the smoothie are loaded with Vitamin C, which is responsible for the health of collagen and contribute to radiant, glowing skin and hair.  The green tea in my smoothie also contains antioxidants, but in addition it has anti-inflammatory properties.  Green tea has also been linked to enhancement of sun protection when combined with sunscreen.  Last but not least, kale is anti-inflammatory and has high levels of  vitamin C, K and A, which help to clear acne prone skin, combat hyperpigmentation and wrinkles and encourages cell reproduction.  Kale is also abundant in lutein, a nutrient that makes eyes whiter.  I
love the taste of this smoothie, but if you would prefer it a bit sweeter I would recommend mixing in some organic honey for a bit more flavor.  Hopefully you enjoy drinking your way to healthier, radiant skin and hair as much as I do!
Subscribe to A Girl's Gotta Spa!
 Watch our reviews on 
YouTube
, see our pins on 
Pinterest
 and check us out on 
Instagram
 and 
G+
. Got a Kindle? 
We're on Kindle too
!