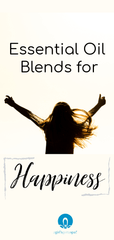 Who wouldn't want to be happier? Between social media, the internet and television, we're constantly bombarded with negativity that makes it hard to stay joyful. We also push ourselves so hard that there never seems to be any time to take a break. Whatever the reason, many people wish they were happier. While there are many lifestyle changes you can make, there are also essential oils that can be very beneficial. Let's take a closer look at essential oil blends for happiness.
Improve your mood. Create your own blend from these oils:
Orange
It is almost impossible to not smile when you smell orange oil. It's an invigorating scent that lifts the spirits and energy levels. You can also use grapefruit and lime oils –
citrus oils
are a mood booster.
Caraway
With a spicy slightly sweet scent,
caraway
promotes happiness by soothing the nerves and encouraging positive thoughts. The scent also gives you a boost of energy.
Lavender
Those dealing with depression can greatly benefit from the calming effects of lavender oil. Lavender calms while also lifting the spirits.
Lemon
Is another great oil that energizes the mind and promotes positivity. (You can find it in our
body wash
.)
Bergamot
There are times when anger, resentment, and other ill feelings can prevent us from being happy.
Bergamot oil
allows us to let go of those negative feelings.
Rosemary
Not only is the scent of
rosemary essential oil
absolutely amazing but it has anti-depressant properties. Combining rosemary with lemon oil would be a wonderful blend.
Geranium
With a fragrance similar to rose,
geranium oil
provides a host of benefits. Not only does it calm, but it also uplifts and strengthens. If you happen to be suffering from mood swings due to menopause, geranium oil is very beneficial. (You can find it in our
rollerball perfume
, Soar.)
You can create your own blend of oils. The important thing is to find a scent you enjoy. Blend the oils so that you can create a blend with beneficial properties. Essential oil blends can be used with a diffuser, in beauty products, or simply with a carrier oil. If you're using essential oils with a carrier oil on the skin, remember to always do a spot check. You want to make sure you don't have a reaction to any of the oils before using on a regular basis. We all go through moments of unhappiness. However, if you are dealing with depression on a regular basis, you should consult a professional who can help.
Subscribe to A Girl's Gotta Spa!
 beauty blog. Watch our reviews on 
YouTube
, see our pins on 
Pinterest
 and check us out on 
Instagram
. Got a Kindle? 
We're on Kindle too
! Or check out our 
natural bath and body
 line!