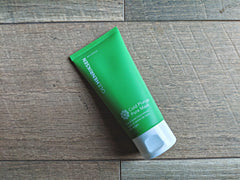 If you love a good clay mask and tend to have large pores, you'll want to read this review of Ole Henriksen Cold Plunge Pore Mask. My large pores tend to be concentrated on my nose from years and years of oily skin that led to blackheads. Although I'm older and wiser as to how to care for my skin and to keep those pores cleaned out, years of my pores being stretched by the hardened oil and losing the elasticity in my skin due to age, really have taken a toll on their appearance. I learned a long time ago that cold water (and cold anything in general) will temporarily tighten skin giving the appearance that your pores have shrunk because, unfortunately, there is no way to permanently shrink them. *sad trombone.* When I got my hands on Ole Henriksen's
Cold Plunge Pore Mask
, I was stoked. First, I love clay masks because they are sooooo good at absorbing oil and two, this mask is turquoise and my 3 year old is amused when I am using it because I look like a smurf.
The first thing you notice, aside from the brilliant color, is the smell of eucalyptus, which creates the cooling effect to this detoxifying mask to minimize the appearance of your pores. There's green tea (which is in our
salt scrub
) and kelp (also in our
body wash
), which have natural antiseptic properties and will clear away oil (the kaolin and bentonite clay also come into play to help absorb it.)  AHA and BHA are also present to dissolve impurities and dead skin, so that it's no longer clogging your pores. The two ingredients that are touted in this mask are snow lotus and Alpine willow herb extracts, both antioxidants, are not ones I am familiar with. However, all of the ones mentioned above, I do know and love and can feel very much working in this mask. It has become my favorite mask and I use it once per week. My skin is clearer and feels lovely, not to mention it just feels fun to use due to the color and invigorating due to the scent. If you haven't tried it yet, I highly recommend it!
Subscribe to A Girl's Gotta Spa!
 beauty blog. Watch our reviews on 
YouTube
, see our pins on 
Pinterest
 and check us out on 
Instagram
. Got a Kindle? 
We're on Kindle too
! Or check out our 
natural bath and body
 line!