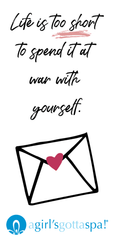 Positive Thinking is a weekly series of inspirational articles to empower and encourage you.
Too tall, too short, too skinny, too heavy, too smart, not smart enough... quiet the conversations that do battle in your head.
When can we look at and within ourselves and be satisfied? Now, don't get me wrong, I am all on board for growth, that's always a positive, but we don't need to beat ourselves up verbally to grow. Do we? How many times have you had someone retake pictures of you because you weren't happy with how you looked? How many times have you stopped yourself from applying for that job you're a perfect fit for, out of fear that the interviewer won't think you're so perfect after all? How often have you told yourself that you're just not loveable? I have. I've done all of those things. But if it were a good friend talking negatively about themselves? We'd interject and lift them up and encourage them. We'd tell them all of the reasons they are wrong to think that way. So why don't we befriend ourselves? Starting today I want to to find something about yourself that you are proud of and flaunt it because you're perfect just the way you are. 
Subscribe to A Girl's Gotta Spa!
 beauty blog. Watch our reviews on 
YouTube
, see our pins on 
Pinterest
 and check us out on 
Instagram
. Got a Kindle? 
We're on Kindle too
! Or check out our 
natural bath and body
 line!