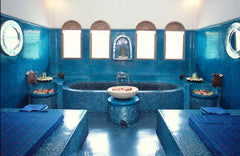 Nothing says complete and utter relaxation to me quite like indulging in a massage, especially a 75 minute long massage, followed by total body exfoliation, body mask and a luxuriating soak in a warm flower-filled bath.  This is how I spent two hours at a spa in Bali thanks to the suggestion of a woman I was lucky enough to share a taxi ride with.  As soon as I got out of the taxi I knew where I was headed to next:
Bodyworks
spa in Seminyak, Bali.
Bodyworks has been in business in Bali for over 15 years and they always seem to be insanely busy.  The
Bodyworks Spa Menu
includes a wide variety of services ranging from traditional Balinese massage to  facials, nail care, hair removal and hair treatments.  Pretty much everything on the Bodyworks Spa Menu looked pretty enticing, but none as much as the Exfoliation Massage, otherwise known as the Mandi Lulur, and this treatment was everything I had expected and more. The treatment began with a deliciously relaxing 75 minute massage, after which my entire body was covered with a grown granular paste (the traditional Javanese lulur.)  The paste is made up of turmeric, sandalwood, cinnamon, ground nuts and rice.  After letting the paste dry on my skin for a few minutes it was gently rubbed off to exfoliate my skin.  My skin was then rinsed off and cooling fresh yogurt was applied to my entire body; including my face.  I was told that the yogurt contains enzymes that stimulates cell activity and restores the pH balance of my skin.  After letting the yogurt mask sit for a few minutes, my skin was again rinsed after which I was led to a bath tub filled with flower petals in which I soaked for the last 10-15 minutes of my treatment. I emerged from this treatment utterly relaxed with smooth, soft, glowing skin.  I have tried a lot of spa services and I can honestly say that this is one of the best, most indulgent spa services I have ever received and it was only about $45 US dollars! Bodyworks is a definite "must" if you happen to find yourself in Bali.
Subscribe to A Girl's Gotta Spa!
 Watch our reviews on 
YouTube
, see our pins on 
Pinterest
 and check us out on 
Instagram
 and 
G+
. Got a Kindle? 
We're on Kindle too
!