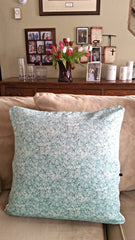 Wondering how to squeeze in a little more relaxation each day without having to book a treatment at the spa?
Aside from using my
aromatherapy diffuser
to add a little more zen to my life, I've also fallen in love with using a shiatsu massager to work the tension out of my upper back. But let's face it, 99% of shiatsu massagers are not pretty. Am I right? In fact, they're pretty much an eyesore. Most are also relatively small (or bulky looking) and don't support your entire back during the massage. The massager I was using prior to now also interrupted my HD signal, so there was no relaxing while watching my favorite entrepreneurial shows like Shark Tank and The Profit. When M Cushion approached me about their shiatsu cushion designed by Jay Godfrey, my eyes lit up. A shiatsu that came encased in a memory foam cushion with an attractive design? Sign me up!
Let me get straight to the point just in case you are short on time and don't want to read this entire review -
this is literally the best shiatsu massager I have ever used. Invest in yourself and get one.
If you're sticking around to read the entire review, let's get to
the things I love about M Cushion
:
One side of the cushion is a gorgeous design making it a great home decor piece.
The other side of the cushion is a solid color and is the shiatsu machine. It's well hidden by dual core memory foam.
The cushion is large, but not bulky. It's just about as big as one of my back pillows on my sofa. (18x18)
The cushion spans my entire back, so when using the shiatsu, I'm perfectly supported so that there is no straining or leaning too heavily into the shiatsu.
Did I mention that this is a heated shiatsu massager???!!!
The massage nodes are bi-directional and change direction every 60 seconds.
The shiatsu has automatic shut off. I believe it massages for 15 minutes, but I was so deep in relaxation, I honestly didn't pay attention.
The heated nodes are just enough to tame the tension in your neck and relax every muscle, but not so much so that the pillow is too hot. There are also interchangable cushion covers that you can choose from as well. The cushion I received is the Black & White Greek Key design. I also received a 100% cotton washable, Floral Green cover.
(Realizing now that I snapped this pic of the pillow upside down!)
I've used this shiatsu almost everyday since receiving it. It delivers the perfect amount of pressure and heat when in use, and is super cushy when I am leaning against it as just a cushion.
Each pillow is $139, which may sound steep, but if you consider that one spa massage usually goes for about $100 plus a 20% gratuity, then getting the M Cushion is a solid investment.
Questions? Let me know!
Subscribe to A Girl's Gotta Spa! beauty blog. Watch our reviews on YouTube, see our pins on Pinterest and check us out on Instagram. Got a Kindle? We're on Kindle too!