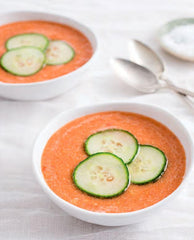 We all know that nutritious foods are good for our overall health, but did you know that it can also help you achieve glowing skin? Fellow beauty blogger, Alexis Wolfer of The Beauty Bean, has written a book complete with DIY beauty treatments, as well as recipes that will be your true
Recipe for Radiance
. Alexis was gracious enough to share two, simply delicious recipes, which should serve as the perfect appetizer to wet your palate for more from her book!
Age-Reversing Wine Mask
Good for: All skin types
In much the same way that red wine is anti-aging from the inside out, the antioxidants in red wine (including resveratrol) make it a great anti-aging skincare treatment when applied topically. Mixed with egg whites to tighten fine lines and retinol-rich egg yolks, this mask takes happy hour to a whole new level—albeit, one in which you may not want to leave your house. 1 egg 1 egg yolk 3 tablespoons red wine Whisk all ingredients together until well combined. Use a pastry brush to apply a thin layer to your face, neck and décolleté, avoiding your eye area. Let dry before washing off with warm water and a washcloth.
Roasted Watermelon Gazpacho
Vegetarian, vegan, dairy-free, gluten-free, nut-free
Lycopene, found in cooked tomatoes and watermelon, helps defend against sun damage—and might even help both prevent and treat skin cancer, according to the American Cancer Society. Keep this gazpacho in your refrigerator all summer long for a skin-healing soup that's as refreshing as it is healing. Serves 2 to 4 3 vine tomatoes, chopped 1 tablespoon extra-virgin olive oil 3 cups watermelon, seeded 1 clove garlic 2 tablespoons fresh lime juice 1/4 cup roasted almonds 1/2 tablespoon sweet smoked paprika 1 medium cucumber, peeled and divided Salt, to taste Cayenne pepper (optional) 2 tablespoons diced sweet onion On medium heat, sauté tomatoes in the oil until fork-tender. Transfer to a blender. Add watermelon, garlic, lime juice, almonds, paprika, and half of the cucumber. Blend until smooth. Add salt to taste and cayenne pepper, if desired. Refrigerate until chilled and ready to serve. Stir in the diced onion. Thinly slice the remaining cucumber. Top the soup with the cucumber slices. If you try either of these recipes, I'd love to know! And don't forget to grab Alexis' book
Recipe For Radiance: Discover Beauty's Best Kept Secrets in Your Kitchen on Amazon
!
Subscribe to A Girl's Gotta Spa!
 Watch our reviews on 
YouTube
, see our pins on 
Pinterest
 and check us out on 
Instagram
 and 
G+
. Got a Kindle? 
We're on Kindle too
! 
Shannon on G+
*Disclosure