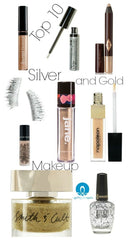 Two of the most luxurious colors out there - whether jewelry, accessories, home decor or makeup - is silver and gold. I'm not the matchy matchy type and firmly believe you can mix and match these metals. Here are my top ten drool worthy silver and gold makeup products and some nail polish for good measure.
1. 
Milani Jewel FX Nail Lacquer
2. 
NYX Studio Liquid Eyeliner
- Silver 3. 
Butter LONDON Cream Eye Shadow
- Randy 4. 
Rouge Bunny Rouge - Highlighting Liquid - Sea of Showers
(White gold) 5. 
Smith & Cult Nail Polish - Bridge & Tunnel
6. 
Charlotte Tilbury Colour Chameleon
- Champagne Diamonds For Blue Eyes 7. 
Jane Cosmetics Cream Eye Shadow
- Gilded Gold 8. 
Napoleon Perdis Luminous Lip Veil Gloss
 - Gold and Beautiful 9. 
Kre-at Beauty Silver Splash Lash
10. 
Too Faced Bulletproof 24-Hour Eye Liner
- Silver Lining
What are you favorites?
Subscribe to A Girl's Gotta Spa!
 Watch our reviews on 
YouTube
, see our pins on 
Pinterest
 and check us out on 
Instagram
 and 
G+
. Got a Kindle? 
We're on Kindle too
! 
Shannon on G+
Disclosure: affiliate links