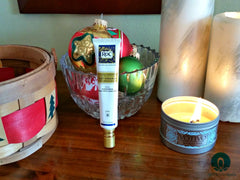 Disclosure: Thanks to RoC® RETINOL CORREXION® Deep Wrinkle Daily Moisturizer With Sunscreen Broad Spectrum SPF 30 I'm getting my skin ready for the holidays as part of a sponsored post for Socialstars #WomenWhoRoC
The holidays are finally here, which seems a bit unreal, especially here in the Poconos where it hasn't had accumulative snow yet, making it still feel like September. (There's something about snow that really gives you that holiday feeling.) As everyone reaches for their camera to capture the season's memories, now is the time to have a winter skin care regimen going in full force.
Did you begin back when we began talking about holiday skin prep?
Since I know my family will be snapping lots of photos, especially since it is my youngest son's first Christmas, I really want to look my best. And to be honest, I'm super self conscious about those photos going up on Facebook and my friends from high school secretly judging how I'm aging. (Admit it, it's something you think about, too.)
In addition to the RoC® Retinol Correxion Deep Wrinkle Night Cream I mentioned using in my last post, I'm also incorporating RoC® RETINOL CORREXION® Deep Wrinkle Daily Moisturizer with Sunscreen Broad Spectrum SPF 30 into my skin care arsenal. The moisturizer contains an exclusive combination of pure retinol and the latest sunscreen technology that is specifically engineered to deliver very broad and photostable UVA and UVB protection with an SPF 30 (which is the minimum SPF you should be using on your skin at all times.) Since exposure to light is known to degrade the effectiveness of retinol, I like that RoC's stablized retinol is kept intact with the addition of broad spectrum sunscreen. Sunscreen should be part of your daily skin care regimen anyway, since what's the point of using anti-aging skin care if you're going to let the sun continue to age you? (Am I right?!)
This moisturizer is clinically shown to visibly diminish wrinkles after 8 weeks of use and after 12 weeks of use, even deep wrinkles are visibly diminished. I've only been using it about 4 weeks so far and my wrinkles have definitely softened in their appearance. I especially dislike this one deep set wrinkle I have that is between my eyebrows. 
As you can see in the photo, it is still visible, but it's not all in your face. (Do you see what I just did there?) At least not to me. It looks softer and more like a fine line than a wrinkle. The fine lines I do have are less noticeable. Retinol is said to be drying, but I haven't found that to be the case so far. I do have combination skin and I've found that it has a mattifying effect for me. Do I look 41? (You can say no.) I'd love to hear about your experience if you've used this product! Leave a comment!
Subscribe to A Girl's Gotta Spa!
 beauty blog. Watch our reviews on 
YouTube
, see our pins on 
Pinterest
 and check us out on 
Instagram
 and 
G+
. Got a Kindle? 
We're on Kindle too
!