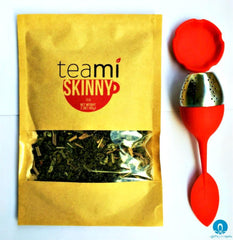 National day(s) of complete diet obliteration ...also known as "the holidays," is almost upon us. As much as I am looking forward to unlimited pumpkin pie and stuffing, I know that beginning the day after Thanksgiving, all I am going to want to do is detox. This year I am one step ahead of the game with
Teami Skinny Tea
. Teami Skinny Tea combines a blend of natural ingredients meant to boost metabolism, improve digestive problems and help to suppress cravings to help achieve weight loss goals.
Teami Skinny Tea is a loose-leaf tea that contains Oolong, Yerba Mate, Lime leaf Extract, Lotus leaf, Ginger Root, Dandelion leaf, Rhubarb Root and is gluten free, GMO free, dairy free and sugar free. Unlike a lot of detox/weight loss teas that I have tried, Teami Skinny Tea does not have a laxative effect nor does it make me feel jittery or over caffeinated.
I drink this tea first thing in the morning and have definitely noticed a decrease in my cravings for sugar and carbs, as well as feeling and looking less bloated after meals. I would highly recommend getting the insanely cute
Teami Tea Infuser
to go with your Teami Skinny Tea. The infuser has really small holes so that your tea leaves do not end up floating in your cup. Genius.
Will you be including tea into your daily detox and weight loss plan?
Subscribe to A Girl's Gotta Spa!
 beauty blog. Watch our reviews on 
YouTube
, see our pins on 
Pinterest
 and check us out on 
Instagram
 and
Twitter
. Got a Kindle? 
We're on Kindle too
! *Disclosure: press sample