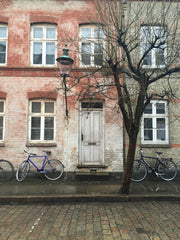 Believe me when I say that, at times, I am the biggest culprit of trying to do a million things at once. Whether it be applying my mascara on the bus whilst scrolling through Instagram and talking to my mom in Australia on the phone. Or watching the latest episode of Homeland (okay, I'm about 4 seasons behind...bear with me!) whilst reading the latest issue of Women's Health mag and touching up my nail polish... I've developed a terrible habit of feeling 'lazy' if I am not trying to cross at least 3 things off my to do list simultaneously. Society has glorified the ability to multi-task and living in the city has only fuelled this habit. It seems as though everyone is doing it all around us - we all know those stressed out business people on the tube in the morning balancing a Pret coffee and bacon roll in one hand and the morning's copy of City A.M in the other, trying to catch up on the news....whilst on a conference call. It feels like there's a stressful vibe all around us wherever we go. I recently visited Copenhagen where I was absolutely amazed at the happy, relaxed and blissful nature of the Danes. I spent a short weekend in the capital city with a girlfriend, but unlike the usual 'hurry scurry' of a weekend city break-away (think minimal sleep, rushing onto the Gatwick Express after work on a Friday and back at your desk Monday morning before you know it, not knowing your head from your tail, wondering where your weekend went), we returned relaxed...quietened.... refreshed!
We both noticed that the pace of life was a lot more relaxed. People walked slower, they took time to talk to each other in the street, the shop windows were lined with candles and the cafes actually wanted you to stay, to linger, to savour the moment. Our favourite was
Laundromat Café
where we spent what felt like hours; precious hours of quality time, playing board games and chatting over herbal tea. And unlike what can sometimes be the case in cafes, we didn't have the waiter popping over asking the almost rhetorical question of, "W
ould you like anything else...?"
 which we all know is code for, 
'"Seriously, you've been here for ages, can you please either order something else or leave
." These cafes encourage guests to stay - even if you only order one cup of tea each and lose track of time as you immerse yourself in a game of chess like we did. The Danes must be doing something right. They've been voted one of the happiest nations on Earth, they have one of the longest life expectancies and they've mastered work-life balance. One of the main reasons behind this happiness is the concept of Hygge – pronounced HUE-gah. Hygge is uni-tasking, it's the art of enjoying the simple things in life, living in the moment and replacing the feeling of guilt with enjoyment and pleasure. It's the company of family and friends, the scent of your favourite soy candle burning whilst indulging in a bubble bath, a
warm cup of tea
in front of the fire, having a warm shower and hopping back into bed on the weekend and the sound of the pouring rain outside. Hygge is taking time out from the 'go, go, go' of everyday life. It's cosiness, being relaxed and balanced, the feeling of togetherness, the absence of anything annoying or stressful…it's a bit like that, but it's more. Hygge can't really be described – it has to be felt.
So how can we incorporate hyge into our lives?
Make Time
– set time aside to hygge. Start by setting aside just ten minutes a day to switch off and do something you love. Sink into a warm bath, savour the taste of your warm tea, sit down and have your breakfast without any distractions instead of eating at your desk scrolling through your inbox.
Atmosphere
– a major part of the stylish Scandi minimalist look is lighting. Create a space that you feel relaxed in – it's all about lamps, fairy lights, and warm bulbs. Transform your space into a hygge haven with cushions, rugs, throwovers,
candle light
…now that's super hygge! I spray
Neom De-Stress Home Mist
on my pillow each night before I go to bed to help create a tranquil atmosphere.
Be Cosy
– snuggle up on the couch with that soft fleece blanket that you love and those woollen socks that you've had for way too long, but can't face getting rid of. These cashmere socks look blissful…Christmas wish list anyone?
Be Grateful
– keep a gratitude journal, take time to think about all the things you are thankful for, write to your loved ones and tell them how much you appreciate them.
Bake
– I have such fond memories of going on road trips in South Africa with my family as a child, stopping at bakeries along the way for 'provisions' as we liked to call it! Who doesn't love the smell (and taste!) of a freshly baked chocolate cake or homemade bread? Going to your local bakery is very hygge or why not create a masterpiece in the kitchen and invite a friend over for some 'taste testing' and chats.
Be Still
– switch off from the rest of the world from time to time, have technology-free hours. No Instagram, emails, Twitter….I know, I feel you!
Get in Touch with Nature
- being in nature helps clear your mind, helps us to put things in perspective and reduces stress levels which helps boost self-esteem and energy. Being in nature reminds us to enjoy the simple things in life – the fresh air, sound of the birds, the lack of congestion. Organise a day trip to the countryside or a walk in a forest.
Be Mindful
– eat together at the dinner table with your loved one, family or housemates each evening, take your time to eat, be mindful of what you are eating and the conversation you are engaging in. Be present.
Spoil Yourself
– buy that beautiful bouquet of flowers from the corner shop you pass on your way home from work every day. Quite literally taking the time to smell the roses can bring such joy to your home. Go for a massage or have a
home spa day
with your favourite products.
Togetherness
– start a new tradition, invite friends over for tea once a month, a board game evening, or movie night. Create memories or why not reminisce of past adventures whilst looking over old photos together (although on second thought, cringing over that fringe you were rocking in 2008 may defeat the hyggely state you've just tried to create!) For more tips, and for a hyggely afternoon of reading, try
The Little Book of Hygge
.
How do you hygge? Leave a comment and let me know!