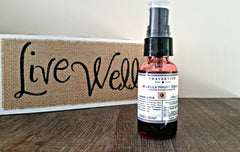 With age comes a multitude of skin issues. Dry skin is one of them, both face and body. Now combine age-related skin issues with other environmental issues, and we've got a problem. Typically I would use a night cream, which is normally thicker than a day lotion and sans SPF, and that has worked out OK. But I didn't know what I was missing until I tried Travertine Spa's Marula Night Serum. Marula, is similiar to argan oil, but provides a much deeper level of hydration and protection of the skin. It has an abundance of vitamins and minerals, something mature skin desperately needs. (Being honest, I hate calling my skin mature. It makes me feel super old.) Travertine Spa's Marula Night Serum also contains certified organic hibiscus flowers (you actually see them floating in the serum), geranium and essential oils of nerouli and lavender.
My experience, where to start?
I've never used Marula oil before to be honest. I've used argan oil and never really strayed because it got the job done. I've known the owner of Travertine Spa for several years now and when I was talking to him about my skin issues, he told me that Marula would make a world of difference. I agreed to give it a try because he has never steered me wrong. The serum looks maroon in the bottle, but comes out clear. The first thing you notice is the fragrance. To say I am in love with the fragrance would be putting it mildly. I applied this serum at 11pm the first time and literally considered texting him right then to ask that he make me an oil I can put in my
aromatherapy diffuser
with the same scent. Lucky for him, I chose to wait until the next morning. The directions say to use 3 drops, but I found that one pump (a little more than pea-sized) was sufficient for my skin. I smoothed it over my entire face and neck. One night, after a week of using it, I remarked to myself after applying it how much better my skin looked. Almost like a few years have turned back. Not being comfortable with this whole aging thing, this was motivation enough for me to make sure I am consistently use it nightly. The serum is not greasy and quickly absorbs into the skin. Your skin will literally glow. All evidence of dry patches have disappeared. So much so, that I was able to wear my
BareMinerals bareSkin Serum Foundation
. If you are not familiar with that review, here's a quick summary - it looked great on my skin with the exception of magnifying dry patches of skin. Liquid foundation has never been my friend. However, after using
Marula Night Serum
for just few weeks, I was able to wear the foundation and SLAYED. Here's what you need to know - I review skin care products regularly. But when I start trying to figure out my budget so that I can purchase this when I run out and plot how I will also scoop some up for my mom (she mentioned she wanted it after hearing how much I loved it), you know that this is SOMETHING INCREDIBLE. Do your skin a favor and grab some for yourself. Girls, this will not disappoint!
www.travertinespa.com
Marula fans, let me hear your thoughts - leave a comment!
Subscribe to A Girl's Gotta Spa!
 beauty blog. Watch our reviews on 
YouTube
, see our pins on 
Pinterest
 and check us out on 
Instagram
. Got a Kindle? 
We're on Kindle too
!