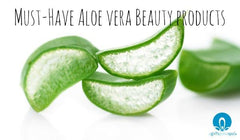 Aloe vera has long been known for its anti-inflammatory properties. Anyone who has had a sunburn knows that aloe vera is a must-have beauty staple. I've begun to notice that lately aloe vera is in everything from beauty products to juices and supplements - I've even seen it frozen in ice cube trays, which makes complete sense since the benefits of aloe vera seem never-ending. Some of the many advantages to incorporating aloe into your beauty routine are:
When taken in a supplement or drink, it helps to support a healthy digestive system, a healthy immune system and normal muscle and joint functions
It reduces toxins in the body, aids in digestion and has an alkalizing effect on the body
It is high in amino and fatty acids as well as vitamins and minerals
It'ss great for applying topically to burns, abrasions, psoriasis, bug bites and sunburnt skin
Since aloe is has a high water content, it is a great way to hydrate, moisturize and rejuvenate skin
Aloe increases skin elasticity by making it more flexible through collagen and elastin repair
Aloe is also an emollient, helping to soften and soothe the skin
It helps supply oxygen to the skin cells, increasing the strength and synthesis of skin tissue and induces improved blood flow to the skin
With all of these amazing benefits, it's no wonder we're finding it in more skin care products. Below are some of my favorite aloe vera beauty products: 1. Sustainable Youth Ultra Creamy Cleansing Lotion, Elasticity Cream & Revitalizing Serum: These products are amazing when used together or on their own.  They all contain alasta, which is the most potent immunostimulatory ingredient derived from Aloe.  The Ultra Creamy Cleansing Lotion is extremely luxurious.  It thoroughly cleanses my skin, but leaves it feeling soft and moisturized and not stripped like a lot of facial cleansers.  It also has a beautiful calming, but fresh scent that I absolutely cannot get enough of.  The Firming & Revitalizing Serum is a really lightweight serum that is immediately absorbed into my skin leaving it baby soft, smooth and glowing.  The Elasticity Cream is also fast absorbing and lightweight, but leaves my skin hydrated, refreshed, soothed and feeling firmer. 2.
Farmaesthetics Cool Aloe Mist
 This cooling, hydrating mist offers immediate relief to inflamed skin. It's also a great makeup setting spray, an amazing refreshing facial and body toner and a purifying mist for skin. 3.
Alothera Moisturizing Shampoo and Keratin Conditioner
 In addition to smelling amazing, these products together leave my hair soft, shiny and silky.  The conditioner works like a deep conditioning treatment on my hair.  I left it in my hair for just 2 minutes and I could feel the improvement in my hair immediately. 4.
Biorepublic Aloe Rescue Revitalizing Sheet Mask
 This eco-conscious sheet mask is very soothing, hydrating and easy to use.   I can see and feel the difference in my skin right away.  I would highly recommend using this mask after a day at the beach, after a long flight or anytime your skin fees dry and irritated. 5.
365 Everyday Value Whole Leaf Aloe Vera Juice
 On its own this juice is a bit tough for me to swallow, but I love adding it to my favorite healthy juices and smoothies, after all beauty does literally begin from the inside out! This juice is available at Whole Foods. 6.
A Girl's Gotta Spa! Energizing Citrus Body Wash
: I'd be remiss if I left out this amazing natural and organic body wash. With aloe as the main ingredient, this body wash soothes and hydrates skin as it cleanses. The mix of citrus essential oils creates an invigorating shower experience. 7.
InviCible Scars
: Scars need to be mositurized in order to heal properly. And since skin is inflammed during the healing process, it only makes sense to use a scar treatment that contains aloe. While aloe won't fade your scar (InviCible uses Vitamin C and licorice root extract to handle that part), it helps to strengthen the collagen structure in your scar to minimize its appearance.
Do you have a favorite aloe beauty product not on this list? Share it in the comments!
Subscribe to A Girl's Gotta Spa!
 beauty blog. Watch our reviews on 
YouTube
, see our pins on 
Pinterest
 and check us out on 
Instagram
 and 
G+
. Got a Kindle? 
We're on Kindle too
!