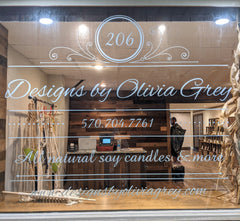 Designs by Olivia Grey, a Leaping Bunny certified natural soy candle company, has opened a storefront on 206 Depot Street in Clarks Summit, PA. We're thrilled to announce, that A Girl's Gotta Spa!'s natural scrubs, lavender spray and rollerball perfumes will be available there as well.
I met owner, Jennifer Micciche, in August of this year at NEPA Yogafest while we were both vendors there. Several weeks later she reached out to me letting me know she was opening a store in Clarks Summit and asked if I'd be interested to have A Girl's Gotta Spa! products sold there. Of course - I said YES.
Why Choose A Girl's Gotta Spa!?
"Truly, from the moment I met you, I knew you were very talented. Your presence and products spoke volumes. I never forgot you and once I decided I wanted to feature local vendors, I knew I had to call you. Knowing that you were local, cruelty free, and all natural, really balanced our mission as a candle store as well. I just knew it would be a perfect fit!" she told me.
Featuring Local Small Businesses From Northeast PA
Designs by Olivia Grey's boutique is also home to other local small businesses as well. Jennifer explained, "We wanted to provide an opportunity to local vendors who wanted to be in a storefront but did not have the means or the connections to do so. COVID hit so many small businesses, including ours. Many of these vendors relied on craft shows/events to sell their items and these shows were severely limited. We saw this as a way to showcase local talent to the community in a way not really seen in our area. By bringing everyone together, our goal is push shop local." 
Donating a Portion of Sales to Camp Freedom
Designs by Olivia Grey gives back by supporting local non-profit, Camp Freedom. "Camp Freedom is an amazing organization breaking the mold and healing veterans, first responders and their families with outdoor adventures. Being a veteran myself, I know the struggles our brothers and sisters are facing and I have witnessed first hand how Camp Freedom is healing our heroes. They have a way of making them whole that I have not seen from other organizations." Jennifer told me.
Designs by Olivia Grey Location and Hours
You can find the boutique at 206 Depot Street, Clarks Summit, PA.
Hours:
Mon Closed
Tues-Fri 12pm-7pm
Sat 11am-7pm
Sun 11am-5pm