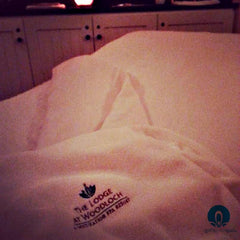 Your aching back, your swollen cankles, your sore shoulders... if you are in your third trimester of pregnancy, I'm sure you can relate. There's so many things to look forward to with your impending arrival, but feeling like your body is falling apart is not one of them. As someone who absolutely loves her spa massages, pre-natal massage was something I was curious about since massage during pregnancy can have some unwanted side effects (especially if you are considered high risk, like myself.) Before heading to your local spa to indulge in a pre-natal massage, make sure that the therapist is trained in pre-natal. There's pressure points, etc. that are to be avoided during pregnancy because they can trigger contractions (some even say pre-term labor.) And there are certain essential oils you should stay away from. You should also get the all clear with your doctor/mid-wife first, as well. The Lodge at Woodloch, located in the beautiful Pocono Mountains, has staff that are trained in
pre-natal massage
. Once I had the all clear from my mid-wife team for massage, I ventured up during their Beauty Event Weekend in June.  The Lodge at Woodloch offers 50 and 75 minute Pre-Natal Massage, 50 minute Pre-Natal Shiatsu Massage, a 25 minute Gentle Belli Facial and a 50 minute Nuturing Body Polish. The treatment rooms at The Lodge at Woodloch are always relaxing with low lighting, soothing fragrances and tranquil music. When my therapist told me I would first lay on my back, I was surprised. I was worried that it would be uncomfortable or that I'd have difficulty breathing, however the massage table is manipulated in a way that you don't actually lay flat. It was quite comfortable, in fact. Pre-natal massage at The Lodge at Woodloch includes massaging your shoulders, scalp, arms, legs, ankles and bottom of your feet with Mama Mio Skincare. For the massage I had, they used O.Mega Tender Touch Massage Oil which contains avocado oil, jojoba oil, borage seed oil, rose hip seed oil and combined it with an essential oil blend of citrus, lavender and ylang ylang.
Avocado Oil
- rich oil that readily penetrates the skin due to the presence of Palmitoleic Acid. Avocado Oil is best suited for dry skin applications.
Jojoba Oil
- the closest oil to your skin's own sebum; it is very soothing, helpful in healing and protecting skin from the ageing process.
Borage Seed Oil
- very high in the essential fatty acid Gamma-Linolenic Acid (GLA – Omega 6), making it extremely valuable in skincare formulations. Numerous studies have shown the topical application of oils containing GLA will effectively repair severely dry skin.
Rose Hip Seed Oil
- high in Linoleic and Linolenic essential fatty acids, which are key components of the epidermal lipid bi-layer. This oil is beneficial for the treatment of damaged and distressed skin by providing intense moisture. It smelled amazing. Who knew how much my feet were in need of a massage until the therapist touched them? She then moved to my belly for a brief belly massage. I warned her that my son may kick her in the process. However, he must've have felt how relaxed his mom was and didn't move the entire time. Once the front portion of your body has been tamed into relaxation, you then lie on one side with a pillow between your legs, a pillow under your head and a cloth covering your eyes so that a portion of your back can be massaged. Maybe it was just me, but the pillows were literally the fluffiest most comfortable pillows I have ever experienced and I wanted to drift off to sleep. You then switch sides so that she can give the rest of your back the attention it needs. When the 50 minutes were up, I told the therapist I would be OK if she just left me there to sleep. Unfortunately, others needed to be pampered so I couldn't take a nap. Darn. This pre-natal massage was glorious, my only advice is to go with 75 minutes. Take in as much pampering as you possibly can before your little one arrives. My husband gifted me a gift certificate for The Lodge at Woodloch that I intend to split between a pre-baby pedicure (because I honestly can't each my feet anymore) and a post-baby Tension Tamer massage when my upper back will be in dire need of soothing.
If you've had a pre-natal massage at The Lodge at Woodloch, I'd love to hear about your experience in the comments!
Subscribe to A Girl's Gotta Spa!
 beauty blog. Watch our reviews on 
YouTube
, see our pins on 
Pinterest
 and check us out on 
Instagram
. Got a Kindle? 
We're on Kindle too
! *Disclosure: This massage was comped. However, all opinions and glorious relaxation are all my own.