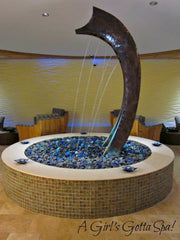 One of the many reasons I love living in the Poconos, is that there are a variety of things to do. Since the area is a popular tourist attraction, especially now that the Jersey Shore is still being rebuilt, there's not too much you CAN'T do in Northeast PA. Back in 1998, Mount Airy Lodge was the location chosen for my honeymoon with my first marriage. Unfortunately it did not live up to expectations when it came to cleanliness, activities and overall impressiveness (and I'm sure my ex-husband would agree.) Soon the Lodge became an eyesore and an undesirable place until the DeNaples family were given a gaming license and completely demolished the old Mount Airy Lodge and crafted an amazing luxury experience that is now Mount Airy Casino Resort. The transformation is amazing. The resort is continuing to transform as it adds outdoor cabanas and a pool to their luxury spa. I recently had the opportunity to stay for a weekend with my fiance. This is my review: 
Mount Airy Casino Hotel
: The hotel at Mount Airy Casino is stunning. As soon as you walk into this AAA Four Diamond Award hotel, the air smells of vanilla. I loved it because casinos and the smell of cigarette smoke typically go hand and hand. This was refreshing, especially seeing that the casino entrance was just above check-in. There is an elegant waterfall feature in the center of the lobby with sparkling blue lights to illuminate the water and a seating area to the left and right. On the right hand side there is this amazing art design of fire, giving the illusion of a roaring fireplace. Just down the hall from the hotel elevator is the entrance to the spa.
We stayed on the 5th floor and our room had a gorgeous view of the 18-hole championship golf course across the street. Even when laying on the posh bedding, you could still see the hillside of lush greenery and the well-maintained course.
All rooms are non-smoking, although that didn't keep the person staying in the room next to us from smoking in the hallway. The rooms are spacious and the bathroom was luxe. It was very quiet with the exception of a few enthusiastic guests in the middle of the night discussing their winnings in the casino as they strode down our hallway. If you place the do not disturb sign outside your room during the day, housekeeping respects your privacy and won't come in. They do leave a note hanging on your door that if you want them to come back, they will.
Le Sorelle Cucina
:
This is Mount Airy Casino's luxury Italian Restaurant. It only opens at 5pm and requires a reservation.  The interior design and artwork depict the DeNaples mother and sister's in paintings, as well as the DeNaples family crest. The DeNaples name may come with a bit of controversy in our area, however, you can't help but appreciate the warm, friendly and family atmosphere of Le Sorelle Cucina. A variety of warm rolls and drinks are served immediately, appetizers (Insalta Caprese and Roasted Beet Salad) came out about 20 minutes later and dinner arrived approximately 1 hour after being seated (Chicken Parmesan and Pan Seared Day Boat Scallops). The food was out of this world and delicious. The serving size was generous. However, it did seem the 40 minute wait from when we received our appetizers (which only took 5-10 minutes to eat) until dinner was served was a little too long. We had two waiters, who were very friendly and attentive throughout our meal.
Betty's Diner:
This is Mount Airy Casino's 50's style diner. It has a jukebox playing duwop (and a lot of Cher) at the front of the restaurant, as well as a poster-sized picture of the old Mount Airy Lodge. The photo is a reminder of the stark contrast of old and new. The diner is open 24 hours and is affordable to most guests. We ate breakfast here, which was delicious with an attentive waitress, but food here also took a while to receive (although less time than Le Sorelle.) Portion size is good and we left feeling full.
Red Steakhouse
:
This luxury steakhouse has an incredibly decadent feel to it. Upon entering, there is a piano to the right of you with live entertainment on Friday's and Saturday's that can be heard throughout the restaurant. Since Red Steakhouse and Le Sorelle Cucina are adjacent to each other, they share a lobby with a bar separating the two. While both restaurants themselves are completely separated, there is this amazing 10-person room, with frosted glass doors on either side that can be reserved, in the back center of the restaurants. Guests who reserve it, can choose from the menu of either restaurant. Additionally, there is another private room off to the back right that has a curtain that can be used to make the room more private. There was a bachelorette party going on in this room while we dined there. (Bachelorette parties were a common theme during our stay with many happy brides-to-be on the casino floor, and hosting private parties in the hotel rooms.) Dinner begins with warm rolls, butter and a hummus red pepper spread. My fiance ordered the Classic Cesar Salad as an appetizer, but I chose to skip an appetizer here. The steakhouse was very busy on the evening we ate there and it took 1 hour 15 minutes from the time we sat down and ordered until we received our meal, while we had two people waiting on us, only one was really attentive. We both ordered Filet Mignon, which was mouthwatering and cooked to perfection. I had a side of asparagus (delicious!), baked potato (literally the largest potato I have ever seen) and roasted wild mushrooms (out of this world in a sauce that tasted almost sweet and cinnamony.) He chose to get steak fries as his side, which paralleled the size of my baked potato. For dessert, he chose the cheese cake and I had the chocolate mousse pyramid. Both desserts were decadent. The resort has other places to eat as well, such as the
Noodle Bar
, Starbucks and the
Buffet
. So you are not without options for the type of food or price range.
Spa & Salon
:
My favorite place of all (of course!) The spa and salon is open to both resort guests and non-guests. The first level of the spa consists of a boutique, hair and nail salon and top of the line
fitness center
. You take the elevator to the bottom level where you'll find a gorgeous waiting room with a water feature, the steamroom, sauna, changing rooms, showers, bathrooms and women's lounge. The air is scented and you feel immediately relaxed.
I chose the
Bamboo Massage
with Allison. I was in heaven with the amount of pressure Allison used (medium to deep), as my neck and upper back are always in constant pain from working at my desk all day. You are given the option to include aromatherapy into your massage and I chose Purification, which is an oil from Young Living. First Allison uses her hands to massage one quadrant of your body, then repeats the massage using bamboo sticks. The ends of the bamboo sticks are covered with fabric so that it doesn't hurt you. The bamboo provides a much stronger and deeper massage than Allison does manually. She was very accommodating when it came  using a lighter pressure for a few sensitive spots (like my neck and the underside of my knee.) This type of spa treatment is definitely for those who do like a stronger, more aggressive massage. (Which I do.) I would definitely return in the future and request Allison for another massage!
Mount Airy offers a variety of
spa treatments
, some unique and some traditional.
18-hole Golf Course
:
Just across from the hotel and casino are the stunning grounds of the Mount Airy golf course. While my fiance loves to play golf, it was only my second time hitting the links. On this particular day, there was a charity golf event scheduled in the afternoon, so guests and non-guests were trying to squeeze in a round of golf prior to kick off. (That included us.) This meant that due to so many people on the course, that we had to be paired up with another party. While the guys we were paired with were nice and understanding of my lack of skills, they were far more advanced than either my fiance or I. This proved to be frustrating for us in the beginning because we had a hard time keeping up. (They'd hit 4 on a par 4...I'd hit 8 on a par 4.) By the third hole, management came by in their golf cart and told us that the line was backing up waiting to play and that there was a 2-hole gap ahead of our party. We were told that if we couldn't hit the right pars designated for each hole, then we'd have to pick up our balls and just let the guys we were paired with play through. While we understood why we were told this, it still didn't make it feel any less unpleasant. We asked the guys we were paired up with if this was usual for this golf course (as they said they've played here many times before) and they said that on weekends it is, but the same holds true for other golf courses in the area as well and wasn't just specifically Mount Airy. We chose to skip a hole or two (we only played 9 holes) so that the guys could play through and we didn't back up others waiting to come onto the course. Once we had no one visibly behind us or ahead of us, we chose to let the guys play on their own, and we went at our own pace. Golf, to me, should be relaxing and fun, and certainly not rushed.
Aside from this, I have to say that Mount Airy's golf course is fun, challenging and absolutely gorgeous and well-kept. The views are also spectacular. At one point there was a small pond aside a hole that had huge bass in it! You could see their huge shadows from atop the hill. At another hole there were mother and father geese with their new babies waddling by a pond. I liked that this course wasn't predictable, but also appreciate that it isn't for a beginner like myself! It was probably by the 7th hole that I felt more "warmed up" to the clubs I was using and began to really hit the ball far down onto the green. My fiance had a great time as well, which is making me consider giving him a round of golf here for Father's Day.
Casino:
While neither my fiance or I gamble, we did marvel at how large the casino floor was. Gaming tables are in the center with slots surrounding them on all sides. There are also high value slots in their own room, as well as high playing tables in their own rooms as well. One side of the casino allows smoking and the side closest to the restaurants do not. The air does not smell of cigarettes though, which is great for a non-smoker like myself. There is also a nightclub here as well called Gypsies, and
entertainment
galore every weekend. Mount Airy also is a great place to hold indoor and outdoor weddings, as well as the reception. The outdoor space is alongside the large pond adjacent to the golf course. I can only image how beautiful this must be! If weather is not accommodating, they have ample space indoors to hold the wedding as well. On the day we were leaving it was raining and they were setting up for an indoor wedding. I was hoping I would've caught a glimpse of the bride! All in all, it was a great weekend at Mount Airy Casino even despite a few hiccups. I would definitely recommend booking a weekend here, or if you live locally as I do, checking out the spa, golf, casino and nightlife. For all upcoming events and casino/hotel details see
www.mountairycasino.com
.
Subscribe to A Girl's Gotta Spa!
 for more beauty reviews! Watch our reviews on 
YouTube
, see our pins on 
Pinterest
. Got a Kindle? 
We're on Kindle too
! *Disclosure: This review was made possible by a media trip.