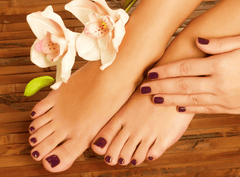 The best part of living in a tourist area (the Poconos), is that there are a lot of little gems waiting to be discovered. For me, this gem has been right in front of my face for 13 years. I've driven by
Utopia Salon & Day Spa
countless times, but let me be honest, I never really gave it a second thought based on the outside. I guess you could say, I judged a book by its cover. Utopia Salon & Day Spa is located on the busy highway of Route 6 in Hawley, it's also right by an intersection for Wallenpaupack school district and Turkey Hill (where all of those tourists going on Lake Wallenpaupack are gassing up their boats.) When one of my favorite spas was totally booked, I decided to do a quick search of others in the area. Utopia was the first to pop up. I looked at their menu and saw that they were completely affordable and when they said they could get me in next day, I was stoked. It was when I pulled into the parking lot that I realized there was a lot more to the building than you could see from the road. When I entered the back of the building, I was taken back by how beautiful it was inside with its local flare of wood floors, stone fireplace and wood beam ceilings.
I waited for my pedicurist, also named Shannon, and was greeted and taken down to another room to pick my lacquer. All of the polish was Morgan Taylor, and I chose
Well Spent
, a purple creme. I was then led to the pedicure room which is a quiet, intimate room of 3 pedicure chairs and a bench to sit on for polish drying. I sat in the chair nearest the window that looked out to some trees. I remarked to Shannon, that sitting there, you would never know that the intersection was just a few feet away. Utopia's
spa pedicure
($47) consists of 55 minutes of calf and foot pampering. Aside from the typical nail clipping, buffing, polish removed and reapplied, your feet and calves are exfoliated with a citrus sugar scrub and then a hydrating green minty masque is applied. Before painting my nails, Shannon gave my feet a nice massage (honestly I probably would've paid more for her to do it longer because it was so relaxing!)
The pedicure chair is a massager and I sat there in pure bliss while it kneaded out my sore back muscles. Something I particularly loved about Shannon was that she was not an over-talker. We've all experienced those kinds of people at least once or twice while spa-ing where the person giving the treatment just won't stop talking. Shannon spoke when I asked questions, made light conversation, but didn't make silence feel awkward at all. I just felt completely relaxed. When I book my next pedicure, it will definitely be with her. If you happen to be in the northern tier of Wayne or Pike counties near Lake Wallenpaupack, I recommend stopping by Utopia Salon & Day Spa for some extra pampering.
Subscribe to A Girl's Gotta Spa!
 beauty blog. Watch our reviews on 
YouTube
, see our pins on 
Pinterest
 and check us out on 
Instagram
.
 Got a Kindle? 
We're on Kindle too
!