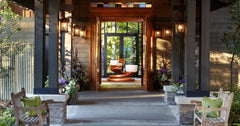 As Wayne and Pike Counties in the Poconos, begin to re-open, so does one of the biggest family tourist destinations in our area - Woodloch Pines and their spa, The Lodge at Woodloch.
Woodloch is located in Pike County, which as of the time of this article, just went into the Yellow Phase. If you are from outside of Pennsylvania reading this, the Yellow Phase means things are beginning to re-open with moderate limitations.
Woodloch will be re-opening on June 5, 2020 with safety protocols in place, and continued social distancing and mask wearing.
Yellow Phase mitigation measures are temporary and estimated to only be in place until June 19th, at which time it is very likely that Govenor Wolf will move Pike County into the Green Phase (less restrictive, but still with safety protocols), pending there is no spike in novel coronavirus cases.
What can vacationers and spa goers expect at Woodloch during the Yellow Phase?
Temperature checks upon arrival
Wearing masks
Use of the Woodloch app to check in
Dining will be to go
No daily in room housekeeping
Limited capacity in some areas
Some activities will require pre-registration
Pools and the lake will be open
The spa will remain closed
Golf tee times are required and will depart every 15 minutes
Golf carts are available on a 1 person (plus family member) per cart basis
Evening entertainment will be held outdoors
1500 acres of ample green space with 3 hiking trails will be available for you to enjoy
Activities are planned for you to enjoy as a family (scavenger hunt, cupcake wars, minute to win it, outdoor DJ, and more.)
See Woodloch's FAQ's section with complete details for every part of your stay during the Yellow Phase.
The Lodge at Woodloch to Re-Open with Precautionary Efforts
Spa treatments are temporarily paused
Staff will wear masks and have their temperatures checked before the start of their shift
Guests will also have to wear masks in public settings and have their temperature checked as well
Social distancing will remain in effect
Housekeeping and deep cleaning will be on a heightened schedule
Limited occupancy will be effect, as well as smaller class and activity sizes
Hand sanitizing stations will be found throughout common areas
Those with compromised immune systems, and anyone exposed to COVID-19 are asked to reschedule their vacations/spa treatments at a later date
Valet parking is temporarily paused
There will be time in between each class/activity for cleaning
The Aqua Garden (indoor pools, hot tub) will remain open
Spa refreshment areas are temporarily paused, but staff will still accomodate with tea, water and trail mix upon request
Indoor dining will be closed, however outdoor dining with a reservation will be open, as well as delivery to your room
See The Lodge at Woodloch's Coronavirus FAQ's for more details.
While all of the above are necessary to keep staff and visitors safe, it can also feel somewhat cold. However, if you've been to Woodloch, you know this is the friendliest place you will ever visit.
Their hospitality is bar none; they make you feel known and like one of the family the moment you enter the resort.
As vacations that require flying may still seem risky, a vacation (with some spa time of course) that is only a drive away, is still the best type of vacation during times like these.
I personally cannot wait to book some spa time and plan a staycation with my family at Woodloch.
Check out woodloch.com for booking and complete details.
Subscribe to A Girl's Gotta Spa! beauty blog. Watch our reviews on YouTube, see our pins on Pinterest and check us out on Instagram. Or check out our natural bath and body line!