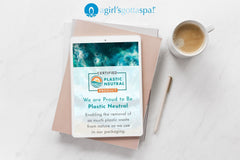 Pennsylvania-based A Girl's Gotta Spa! ®, who believes that skin care is a form of self-care, is now certified Plastic Neutral. The company has partnered with rePurpose Global to fund the collection, processing, and reuse of as much ocean-bound plastic waste as it uses across its packaging and operations. By taking this bold commitment, every A Girl's Gotta Spa! purchase will now carry a Net Zero Plastic Footprint.

By donating a percentage of every product purchase to plastic reduction efforts, A Girl's Gotta Spa! is enabling the removal of over 44 lbs of low-value plastic waste otherwise landfilled, burned, or flushed into the oceans every year. Through its partnership with rePurpose Global, the company is supporting vetted waste management social enterprise CarPe in India to collect and process hard-to-recycle waste streams otherwise too low value to be reclaimed from the environment, such as chocolate wrappers, chips packets, and similar flexible packaging items.

By going Plastic Neutral, A Girl's Gotta Spa! is not only tackling a $50bn/yr funding gap that plagues recycling supply chains worldwide, but is also adding a crucial income stream for over 50 waste pickers and their families in India. Today, informal waste workers often earn less than $5/day, work in precarious conditions, and face severe discrimination despite providing a crucial societal service for cities across the developing world.
Through this initiative, the company is boosting these waste workers' income by attaching value to hard-to-recycle plastics, while supporting experienced recycling social enterprises who holistically uplift ex-waste pickers through occupational safety, health insurance, and skills training.
As an emerging brand in the indie beauty category, A Girl's Gotta Spa! recognizes the grave threat that plastic pollution poses to the future of our planet and is planning to take further action against this epidemic. We have seen the devastating amount of waste generated every day by our industry, so to us, the urgency of this crisis was impossible to ignore and we decided to step up. Our planet needs us and A Girl's Gotta Spa! is taking strong strides to protect her." said Shannon Smyth, CEO of A Girl's Gotta Spa!
"Planetary protection is at the core of A Girl's Gotta Spa! It's so refreshing to see them push the boundaries on tackling the plastic waste problem. Forward-thinking brands like A Girl's Gotta Spa! are the need of the hour. We hope this pioneering move pushes more brands to take responsibility for their own plastic waste." said Aditya Siroya, co-founder and Chief Impact Officer of rePurpose Global, the world's first Plastic Credit Platform helping people and companies take genuine climate action by financing the removal and recycling of ocean-bound plastic waste worldwide.
The social enterprise co-designs and executes waste management and economic empowerment projects in collaboration with its global network of impact partners across 3 continents and 7 countries, such as India, Indonesia, Kenya, Sri Lanka, and Colombia.