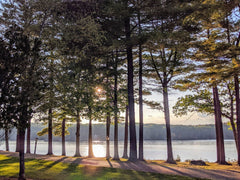 This getaway was hosted by Woodloch Pines Resort in Hawley, PA.
The Pocono Mountains has many places where families can reconnect. Recently my family and I had the opportunity to travel 40 minutes north of our home here, to Woodloch Resort.
I've previously written about The Lodge at Woodloch, which is part of this massive resort, but I decided to forgo a spa day for some family wellness time.
Edgewater Suite at Mountain Laurel
Since there were 6 of us for this trip (missing 2 of our other boys), we stayed in the Edgewater Suite at Mountain Laurel. Our suite was on the ground floor with a gorgeous daily view of the lake.
I couldn't get good photos due to lighting, but I did take a brief video tour.
History of Woodloch Resort
The Woodloch Resort of today sits on over 1,800 acres, but when owners Harry and Mary Kiesendahl first opened their doors in 1958, Woodloch Pines existed on only 12 acres of shoreline with two cottages, a main lodge and no running water. What could host only 40 people, now welcomes over 100,000 guests through its doors every year. That's an amazing feat!
What was once small and cozy is now a four-season, family resort voted in the top 1% of hotels worldwide on TripAdvisor. The Woodloch family of properties also encompasses Woodloch Springs, recognized by Golf Magazine as one of the "finest courses in America," and sister property, The Lodge at Woodloch: A Destination Spa, ranked among the top five spas in the world by Conde Nast Traveler and Travel + Leisure - and most importantly, a personal favorite of mine.
Family Fun in the Poconos
I'm very blessed to live in this wonderful area, and a staycation is just what we needed. If you have a large family, as I do, it can be difficult to find a vacation spot that can accomodate you and offer amenities that cater to everyone.
We found Woodloch Resort had something that each of us were excited to do.
My husband and I enjoyed the views here immensely. We live in the Poconos because trees and lakes are abundant, and being immersed in nature constantly, gives you such a feeling of peace. Woodloch did not disappoint with views on views on views of Lake Teedyuskung, the autumn leaves and blue skies.
The boys enjoyed time at the indoor pool, the kids indoor mini-waterpark, the outdoor kids pool, bumper cars, go karts, paddle boats, indoor playground, both indoor and outdoor basketball courts, the petting zoo and they enjoyed the 90's theme show and the comedy show after that.
Then there was the pontoon boat ride around Lake Teedyuskung, which was perfectly relaxing. I think it was the first time my boys sat in silence in a long time, just taking in the scenery.
Dining at Woodloch Resort
I absolutely love the dining plan that Woodloch offers when you stay here. We had the inclusive meal plan, which was 3 meals per day.
Dining here was an experience in and of itself. There were so many meals on the menu that we've never had, so my kids, husband and myself got to discover delicious new favorites.
At breakfast and dinner you select from various meals or the featured meal and dessert. The table is also given various breads, veggies and other sides to share. There is also a large salad on the table - a different kind each night.
Lunch is a buffet that quite honestly, seemed endless. So many lunch options, so many desserts, SO much food!
The kids had no opportunity to pick up their phones as they were focused on eating. It was that good.
And the view? Everyone has a view of the lake from their seat as the entire wall is a multitude of windows.
On Saturday night, it was theme night, and the theme was the 90's. So they had a parade of 90's characters walk through the dining hall, the staff were dressed in neon colors and there were 90s posters everywhere.
Woodloch Resort Entertainment
After dinner we made our way to where they hold their broadway style shows, where it was a night of 90s 1-hit wonders, battle of the boy bands, and 90s sitcoms theme songs. We all had a blast laughing and singing along.
When that was done, a comedian took the stage - who was funny and appropriate for the whole family.
The night we arrived we went to the magic show. My older boys hemmed and hawed at first at the idea of it, but the magician was so good, they ultimately were mesmerized as we all tried to figure out how he was conducting various illusions.
Families Call Woodloch Home
Woodloch is a family owned and run business. You understand that the moment you arrive. Everyone feels like family and they treat you as such. It's warm, inviting and it makes you forget how vast this resort is, because it feels like home.
It's peaceful, relaxing, and so much fun. There is so much to do here, we'd literally need a week. We didn't even see and do everything here and we were all trying to plan how to return.
While on our adventures we overheard many families talking about their many return visits to the resort and it was plain to see why families choose to come back here year after year. My photos and blog post don't do it justice.
Family wellness through shared experiences creates memories you and your children won't forget. This time of togetherness is something that helps you reconnect and bond. As your children get older, that is something that can sometimes be difficult to do with so many distractions out there vying for their attention.
I'm so grateful that Woodloch will now be part of a memory of fun and time spent together for my family.
Subscribe to A Girl's Gotta Spa! beauty blog. Watch our reviews on YouTube, see our pins on Pinterest and check us out on Instagram. Got a Kindle? We're on Kindle too! Or check out our natural bath and body line!