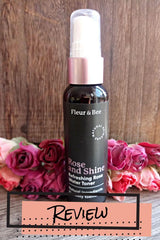 I recently had the opportunity to try out Fleur & Bee's Rose and Shine Refreshing Rose Water Toner - that you must hear about!
Fleur & Bee is a company known for their stance on creating 100% natural, non-toxic skincare products that are Leaping Bunny certified cruelty free.
What I also would like to note before diving into this review, is that they are a company who gives back to support and empower women. 1% of all
sales goes to the distribution of menstrual hygiene products to girls in need.
This is such an untouched area of need in this country, and especially in financially destitute countries.
Many do not realize the absolute need for access to these products and/or the positive impact on health and well-being, infection control, and even self-worth of a woman.
The fact that Fleur & Bee appreciates the need and impact, as well as follows through on supporting this need, tells me from the door that they are an action-oriented company who puts their money where their mouth is.
What is Toner?
Toner creates homeostasis of your complexion by balancing ph levels. It works to reduce the appearance of your pores and removes residual impurities not removed by cleansers.
It is considered an essential element in your skin care regime and an absolute in skin care health.
Rose and Shine Refreshing Rose Water Toner Review
Rose and Shine Refreshing Rose Water Toner is made of 2 highly effective and 100% natural ingredients; Purified water and Rosa Damascena flower oil.

This toner is paraben free, sulfate free, gluten free, non-GMO, and it's 100% vegan.
This is not only an effective product, it is a product ideal for allergy sufferers, those with sensitive skin or other health conditions where toxins can negatively impact other major organs, vegans, vegetarians, and over-all pursuers of health and wellness and, well, beautiful skin!

It comes in an easy to use spritz bottle, which is sized for your hand, making it comfortable to hold. It's also only 2 floz, making it TSA friendly.

It smells AMAZING!!!! It felt like I was spraying a luscious rose on my face without leaving a weird or bad taste sitting in my mouth.
My skin felt oh-so-refreshed and clean! I looove my make-up, so sometimes even after using a cleanser I feel like my skin wasn't as clean as it could be.

Note: I suffer with plaque psoriasis so it's best to leave NO foothold for breakouts or inflammatory responses on my face.
That said, when I used Rose and Shine my face felt the cleanest it had ever felt, the color of my complexion appeared balanced, and well I felt like I not only smelled fresh, but looked fresh with a feeling of glow!
And, yes, I am all about the glow!
When Should You Use Toner?
Use toner after cleansing and before moisturizing. As far as frequency is concerned, use it once in the morning and once at night.
How Does Rose Water Toner Work?
Rosa Damascenca flower oil is an essential oil made from the damask rose plant. The purified water is present to dilute the oil so that it does not cause irritation and is used safely in a 1:1 ratio mix.

The top 3 skin benefits of rosa damascenca essential oil found in the Rose and Shine Toner include:
Anti-inflammatory benefits: Helps with anti-aging, appearance of skin complexion, reduced redness.
Antimicrobial benefits: Assists with the cleansing on a micro bacterial level to prevent infection and fight acne.
Antioxident benefits: Supports anti-aging and skin health/appearance by destroying free radicals.
Free radicals promote injurious behavior to skin tissue, thereby creating those awful age lines and wrinkles…bring on the antioxidants folks!
TWO added bonuses that I MUST mention:
Aromatherapy benefits: Reduced anxiety and depression for an overall calm feeling and mental wellness.
Aphrodisiac benefits: Increases libido and makes you feel damn sexy!!!
OMG, now I understand my sensory experience of feeling balanced, clean, and GLOWING!!!

In summary, Fluer & Bee is a good company, great mission, non-toxic, cruelty-free, effectively makes you feel like a million bucks, and more importantly fulfills the purpose of toner in the most top notch of ways.
Get Rose and Shine for yourself and notice the difference in your skin! www.fleurandbee.com.
Subscribe to A Girl's Gotta Spa! beauty blog. Watch our reviews on YouTube, see our pins on Pinterest and check us out on Instagram.