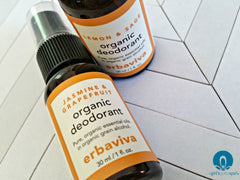 Mention "
organic deodorant
" and you may get a few raised eyebrows combined with some skepticism. People often wonder -
Does organic deodorant smell weird? Is it strong enough? What exactly is it made of?
I'm going to be straight up honest, I've never tried organic deodorant before simply because I didn't think it would have staying power. After talking with the owner of Lilly's Bathcarry one day, which in full transparency is an
A Girl's Gotta Spa! retailer
, she convinced me that I should give it a shot. She recommended
erbaviva
, saying it was the best she's ever used. Now that I've tried it myself, I'm kicking myself for not trying it sooner.
I tried erbaviva
Lemon & Sage Organic Deodorant
and
Jasmine & Grapefruit
. Pictured is the travel size, which is 1 floz, but she also has full size, which is 3.4 floz. If you've never tried this type of deodorant before and are unsure, then I recommend going with the travel size because it is only $7, but lasts a good long time. Something I loved right away about erbaviva is that you don't need a degree to understand the ingredients, pure and simple - it's essential oils in organic grain alcohol. I'm not used to spritzing on my deodorant, so that took some getting used to, because you don't want to over do it (or under do it and smell bad.) I found that I only needed 3 spritzes for it to be effective enough for me. Also, a helpful tip - if you've just shaved, wait a little bit before spraying because the alcohol will sting. Fragrance-wise, I thought Lemon & Sage would be my favorite since I love lemon scents. Lemon & Sage smells good, a very clear and clean lemon mixed with an earthy sage aroma. However, Jasmine & Grapefruit became my go-to. I really like this floral-citrus combination. The scent is there for a few minutes, but then you don't notice it until... suddenly you're sweating in the heat of the day and boom. The scent is there as the ingredients are activated and working to prevent body odor. Perfect! I'm actually surprised at how much I liked this. You can find erbaviva at Lilly's Bathcarry for $7 and $20. I'd love to know if you experience trying organic deodorant for the first time was the same! Leave a comment!
Subscribe to A Girl's Gotta Spa!
 beauty blog. Watch our reviews on 
YouTube
, see our pins on 
Pinterest
 and check us out on 
Instagram
.
 Got a Kindle? 
We're on Kindle too
!
Disclosure: Press samples