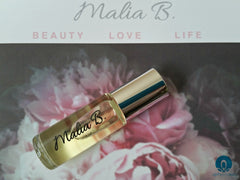 Some of the best perfumes are made by indie brands. When I first began blogging in 2005, I came across perfumer, Sharon Bolton, and her amazing fragrances. For a few years she went off the radar, but I was so thrilled when she recently reached out with the relaunch as Malia B (named after her daughter.) Malia B has three perfume oils that come in packaging using post-consumer materials, which are embedded with wildflower seeds so that you can plant it and grow something beautiful. The nature-inspired perfume oils are:
Luv
: White flowers, gardenia and vanilla
Soul
: Pineapple, Papaya and coconut
Malia
: Orange and Jasmine with a fresh top green note
I chose Luv, because I typically wear perfumes that have floral notes. I was not disappointed at all. It smells incredible! It has a fragrant sweetness to it that cannot be described - other than that I want to wear it all of the time. It is perfectly feminine and the scent is long-lasting. Each Malia B perfume oil comes in a 1/8 rollerball and price ranges from $38-$40. You can also purchase 5ml samples for $2.
Subscribe to A Girl's Gotta Spa!
 beauty blog. Watch our reviews on 
YouTube
, see our pins on 
Pinterest
 and check us out on 
Instagram
.
 Got a Kindle? 
We're on Kindle too
!
Disclosure: press sample