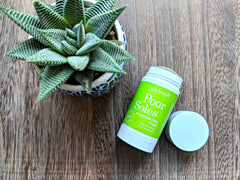 Regardless of the season, dry feet can happen any time of year. They snag your sheets, tug in your socks and make you avoid wearing sandals. If the cost of bi-weekly pedicures aren't in your budget, I have the next best alternative to get baby soft feet. Everyone in my house knows I can't live without my
Amope Wet & Dry Pedi Perfect
to file away the layers of dry skin on my feet. And let's be honest, dry skin on your feet is a thick mess. I love the convenience of this foot file and tend to use it while I'm watching my favorite shows (why not? It's adding a little more
me
to your me time.) But it doesn't end there because now your feet will more easily absorb creams and lotions to hydrate and soften the skin. Right now my favorite two foot care moisturizers are by get fresh. I love their Rescue Me Intensive Foot Repair Creme and their Poor Soles Moisturizing Stick.
get fresh Poor Soles
: I love this handy little moisturizing stick. Not only is it mess-free, it's the perfect size for traveling. Poor Soles is a solid lotion comprised of Vitamins A and E, Avocado, Sweet Almond Oil, Apricot Kernel, and Shea Butter. Both foot care products have lemongrass in them, which a natural deodorizer. I don't know about you, but smell is an issue I am always combatting in the warmer weather when my feet are sweating. I can't wait to give this a try to see if it helps to make a difference.
get fresh Rescue Me
: I mentioned this on
my Instagram
when I first started using it - it smells like Lemonheads. If you grew up in the 80's, this was a staple in your candy stash (or at least mine.) It's a creamy, refreshing lemon zest of fragrance. This creme is rich without being too thick, it's lightweight while still being moisturizing. Its ingredients include Shea Butter, Aloe Vera, Avocado and Soybean oils. It also has alpha hydroxy fruit acids to exfoliate.
As you can tell from the ingredients, both of these products are incredibly hydrating. After using my Amope, I apply the get fresh creme or stick, and voila! My feet are baby soft. If your feet are in desperate need of some moisture - give these a try!
Subscribe to A Girl's Gotta Spa!
 beauty blog. Watch our reviews on 
YouTube
, see our pins on 
Pinterest
 and check us out on 
Instagram
. Got a Kindle? 
We're on Kindle too
! Or check out our 
natural bath and body
 line!