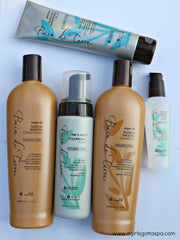 Humidity can wreak havoc on any hairstyle. That's why smoothing and anti-frizz hair care products are always on my vanity. Unruly hair has no place in my beauty regimen! Bain de Terre are a professional line of hair care that previously could only be found in salons. Since the launch of Loxabeauty.com, an authorized retailer for salon brands, there's easier access to them without the hassle of driving to the salon to restock. And yes, product diversion is a real thing, so if you've ever seen them anywhere other than the salon (like at a drugstore), they're not an authorized re-seller. The Bain de Terre products I've been using are their Sleek & Smooth shampoo and conditioner, Rise n' Shine Volumizing Foam, Recovery Complex Anti-Frizz Shine Serum and Jasmine Blow Dry Smoothing Creme. As you can see, I take frizzy hair seriously.
Bain de Terre's Sleek & Smooth shampoo and conditioner smell divine. We all love when our hair smells lucious, but oftentimes that fragrance dissipates within hours. Aside from my hair being silky smooth as this set enhanced and restored my hair health, the botanical scent lasted literally all day. Better yet, I was constantly getting the
"Ooh, your hair smells good!"
compliments each time I used it. Compliments never get old. The shampoo and conditioner are paraben free and color-safe, which is great for those of us who color our hair and don't want to see it fade quickly.
Back when I visited Zotos Professional's headquarters where I talked to Mike Petrizzi about
how to prevent hair color fading
, one of the hairstylists explained to me that although I have A LOT of hair, it is naturally fine hair and this is why I constantly battle losing volume. Sure, I could tease it out like the 80's to give it some lift, but typically within the hour my hair falls flat, not to mention the unflattering frizzy hair is quite an eyesore. I could put an endless supply of hair spray in my hair, but it never makes a difference. Baine de Terre's Rise n' Shine Volumizing Foam is lightweight so that it gives you real volume, and utilizes white willow bark, a natural source of resin, that builds body and enhances hair's volume for added fullness. It's great for all hair types and doesn't make it greasy. This product also has argan and monoi oils, so it conditions hair and I get the volume without the frizz.
You most likely put your hair through the ringer daily from blow drying to flat ironing to curling. The hair breakage that thermal stylers cause creates much of the frizz that you see. It is so important to use a hair treatment that will protect your strands from heat damage while reducing frizz and moisturing your hair. The Bain de Terre Jasmine Blow Dry Smoothing Creme does all of these things PLUS it has a UVA/UVB protectant, as well. Skin isn't the only thing that needs protection from the sun, as UV rays cause hair color fading.
Lastly, I use the Recovery Complex Anti-Frizz Shine Serum. This serum is alcohol-free and color-safe and contains argan and monoi oils. It is weightless, and despite the oils and silicone, it's not greasy. It leaves your hair silky smooth and frizz-free. I've used it both on damp hair before styling and on days when the humidity is wicked, on my dry hair as well. You only need a pea-sized amount to get the job done for shoulder length hair. All of the anti-frizz hair care mentioned from Bain de Terre are paraben free, color-safe, contain argan and monoi oils, have a botanical fragrance that lasts and ends your battle with frizz. Believe me, I live by the water, where humidity is no joke. If you haven't tried these for yourself yet, I highly recommend them! If you'd used any of these products, I'd love to hear about your experience in the comments. When shopping for Bain de Terre on Loxabeauty, use code
FiveOff
at checkout to get $5 off a minimum purchase of $20 on Bain de Terre hair care products. (Discount code expires on July 31, 2014.
Subscribe to A Girl's Gotta Spa!
 Watch our reviews on 
YouTube
, see our pins on 
Pinterest
 and check us out on 
Instagram
 and 
G+
. Got a Kindle? 
We're on Kindle too
! 
Shannon on G+