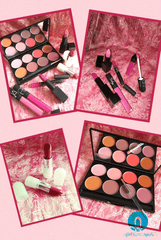 Sometimes with my dark skin tone, it can be a bit hard to find the right lip color, especially when it comes to pink. So I was super excited when I received several different shades of pink lip glosses and lipsticks from 
NARS, Mehron and Uslu Airlines
. I'm pretty sure a lot of you are familiar with the cult favorite
NARS
, but for those of you who has never heard of
Mehron
or
Uslu Airlines
, here's a teeny bit about these brands.
Uslu Airlines
is a Berlin based brand that was created by a Turkish makeup artist and German entrepreneur. The most advanced components are used and their products and colors have fun airport names using the global aviation 3-letter-code system. Their high quality products are largely used by international professional fashion makeup artists. 
Mehron
"represents an artisanal approach to creating quality cosmetics that are high impact and versatile." With long lasting coverage and a built in hydrating cream I can see why Mehron is widely used by professional artists working in fashion shows, productions, movies and performers. All three of this beauty brands are cruelty free.
Mehron's L.I.P. Day Palette ($43.95), 
is absolutely amazing! It consists of eight rich and creamy colors that feels like a lip butter and would flatter any skin tone. Plus I'm able to blend some of the colors to create  different shades. The colors are buildable, hydrating and will leave a lovely stain that you can slick some gloss or lip balm over. In the morning before leaving for work I would barely dab a bit on my lips using the brush or my fingertips and although the hydrating properties would be gone after a few hours, the color would still be there and I'll just apply some lip balm. It goes on smooth and light and there's no scent nor is it tacky or sticky. I love all the colors and it was fun wearing a different color every day of the week, but my favorite pinks from this palette are Bubble Gum, Sun Burst, Natural and Fiesta. If you don't want to get the complete palette you can purchase individual pots for $7.95. They also have a Night Palette and the colors are gorgeous!
Colors, top, left to right: Cotton Candy, Bubble Gum, Sun Burst and Zinnia. Colors, bottom, left to right: Autumn Sun, Natural, Petal Pink and Fiesta.
These are swatches of the top colors.
And these are swatches of the bottom colors.
I've always been a fan of NARS Cosmetics so getting some goodies from them was lovely! I've never been disappointed using their Lip Pencils and the
Satin Lip Pencil ($25.00), 
I received lives up to its name. The intense color combined with a long wearing, moisturizing, vitamin enriched formula is everything you've been wanting in a lip pencil! It goes on satiny smooth, has a great finish and the compliments you receive will be well worth the splurge. The color, Yu, looks a bit intimidating at first, but once I saw how great it looked on my lips, I wanted to wear this every day.  These lip pencils can be used as a liner, all over color or paired with other colors to create an intense, Instagram worthy pout.
NARS lipsticks: On the left Michiyo and right is Claudia.
The
Lip Gloss ($26.00),
Priscilla is a shocking fuchsia pink and Angelika is a cotton candy color with gold flecks. Both are enriched with vitamin E and are moisturizing and long wearing. I found that Angelika was a bit too light for my skin tone, but works good over a darker or brighter lip stain or lipstick. I absolutely love Priscilla! With this lip gloss, the only other makeup I needed was some mascara and light blush. The pop of color on my face instantly brightened it and it's not sticky or heavy, it feels creamy and moisturizing. The applicator for the gloss is soft and glides on smoothly. Although this formula is meant to be long lasting, if you eat or drink while wearing, reapplication is a must. Which is fine as it gives me another chance to look at my pretty Priscilla decked out lips! Last but not least, I also got to try a couple of
NARS 
Audacious Lipsticks ($32.00)
.  The colors, Claudia and Michiyo, these babies are bold! I love both colors, but Claudia like Angelika was too light for me. It's a cool pink that looked more lavender on me. I didn't like how chalky it made my lips look. Michiyo is a shocking pink that reminded me of the lip pencil Yu. They're pretty close in color so this one I really liked. The texture for these lipsticks is soft and smooth, almost satiny and it has amazing staying powers! I love the pigmentation and my lips didn't feel dry. Just one swipe is all you need, but a couple more wouldn't hurt! I drink a lot of liquids throughout the day and just needed a little touch up after lunch and that lasted until I got home that evening and washed my face. I've also dabbed a bit on my lips when I didn't feel like going all "glamour" and applied some gloss on top for a low maintenance look.
Left NARS gloss Priscilla, middle gloss Angelika and right Satin Lip Pencil in Yu.
Now, seeing as this was my first time trying the brand,
Uslu Airlines ($25.00),
I wasn't sure what to expect. Boy was I surprised! The colors TEM and HAV are both flattering to my skin tone. These can go full coverage or sheer, feels like a lip balm, smooth texture, moisturizing and long lasting. All of their lipsticks have vitamin E and are NOT tested on animals. HAV looks like a dark red, but does have pink undertones; this shade can go from a girls night out to a weekend play date, it's that versatile. TEM is more of a dark coral, but oh so pretty! Perfect for everyday wear, this little number can also work as a sheer coral just by dabbing a little bit on your lips. These lipsticks are light and oh so hydrating! Did not need to use a gloss or lip balm while wearing them. Perfect for the most drying time of the year!
Uslu Airlines lipstick swatches: left is TEM and right HAV
To sum it up, my favorite color would have to be Yu by NARS. The vibrant pink works so well with my skin tone and it's so versatile. Plus I love that this lip pencil can pretty much fit anywhere. I just adore the hydration of the Uslu Airlines lipsticks and the colors. As much as I would love to carry the Mehron Day Palette with me at all times, alas, my daughter's "things she has to have," pretty much takes up all the space in my purse. It was fun trying a new lip color everyday for about two weeks and I'm glad I was able to use different shades of pinks to find out which one would be perfect. Lucky for me almost all of them did the job and all are now my perfect pink!
Have you tried any of these?
Subscribe to A Girl's Gotta Spa!
 beauty blog. Watch our reviews on 
YouTube
, see our pins on 
Pinterest
 and check us out on 
Instagram
 and 
G+
. Got a Kindle? 
We're on Kindle too
! *Disclosure: press samples